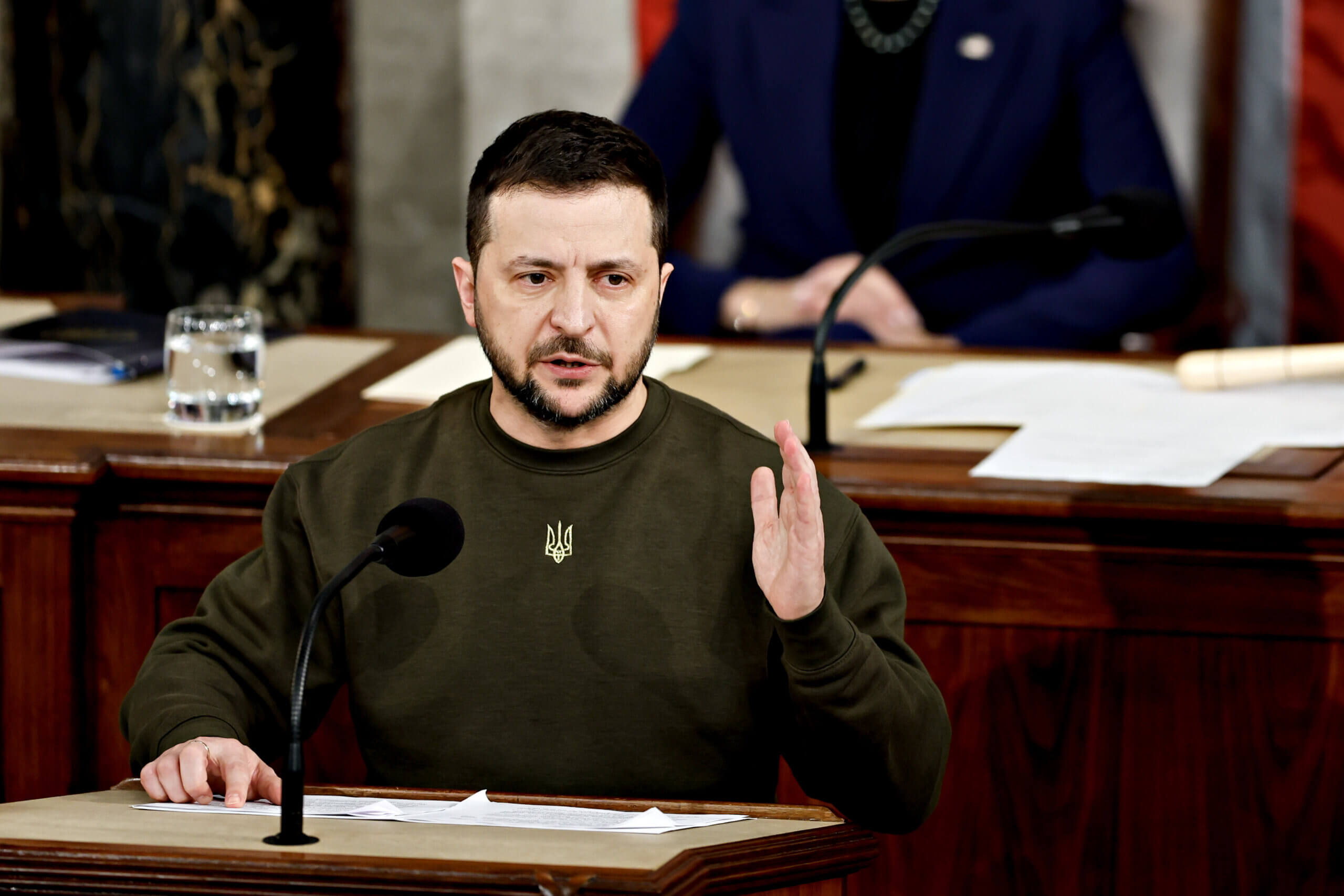 Delivering a historic address to Congress entirely in English, President Volodymyr Zelenskyy of Ukraine spoke stirringly Wednesday night of his country's fortitude, holding forth the besieged city of Bakhmut as a kind of Rock of Ages stronghold against occupiers. But when it came to moving metaphors of light fighting against the dark, Zelenskyy, who is Jewish, did not mention that it was the fourth night of Hanukkah, instead grabbing for lower-hanging seasonal fruit.
"We will celebrate Christmas," Zelenskyy said of Ukraine. It "may be candle-lit," he added, "not because it's more romantic, but because there will be no electricity — millions won't have heating or no running water."
He was resolute that the celebration would happen regardless of Russian airstrikes. "Even if there is no electricity, the light of our faith in ourselves will not be put out." 
Meanwhile on Twitter, many Jews posted pictures of their Hanukkah menorahs and said they were lighting them in honor of Zelenskyy.
The Ukrainian president, who doesn't often discuss his Jewish background, has been frequently called a "modern-day Maccabee." But given his primarily Christian audience, it's no surprise that he did not delve into Jewish antiquity. Perhaps, too, given he grew up in the Soviet Union when robust Jewish education was not always available, he is not fluent in the history himself.
The Maccabees did not go unmentioned in Washington on Wednesday however. At a joint news conference with Zelenskyy before the speech, President Joe Biden pointed out that the visit came at "a time when Jewish people around the world, President Zelenskyy and many families among them, honor the timeless miracle of a small band of warriors fighting for the values and their freedom against a much larger foe and how they endured and how they overcame.
Biden, who hosted a White House Hanukkah party Monday, also noted how "the flame of faith with only enough oil for one day burned brightly for eight days. The story of survival and resilience that reminds us on the coldest day of the year, that light will always prevail over darkness."
The parallels between the two men's metaphors were striking. 
But comparisons between the Maccabees and Ukraine are somewhat strained. Zelenskyy, while resisting invaders and beating the odds, proved himself to be quite an assimilated Jew in his invocation of Christmas. The  Maccabees, with guerilla warfare and makeshift weapons, were on their own. There was no great power they appealed to (or spoke the language of) to win out against the Seleucids.
Yet it's the courage of Zelenskyy — who, mercifully, seems not quite as violently zealous as Judah Maccabee — that shines through. Fighting for his people, he argued that the world we live in is interconnected, that his fight is not his alone. If this doesn't reflect the stakes of the Hanukkah story, it may well be a sort of update that better tracks with our values and our reality now.
Maybe that's what people mean when they call him a "modern-day Maccabee." 
The post Zelenskyy, 'modern-day Maccabee,' invokes candle-lit Christmas in speech to Congress appeared first on The Forward.