When the first production of "Fiddler on the Roof" was in rehearsals, Jerome Robbins told Zero Mostel to stop kissing the set's mezuzahs. It was too weird, too Old World, too … Jewish. Mostel, the show's first Tevye, responded by crossing himself.
Point taken.


Mostel won the battle, and the gesture has lived on in countless performances — even one at Brigham Young University.
This anecdote, oft-repeated in documentaries and interviews, encapsulates a core tension behind the development of "Fiddler on the Roof": how to keep the material authentic without alienating a largely non-Jewish audience. As "Wonder of Wonders" author Alisa Solomon found, clues to this anxiety can be found in production notes, with lyricist Sheldon Harnick, composer Jerry Bock and director-choreographer Robbins fretting over a certain schmaltzy "Second Avenue" quality.
In "Fidler Afn Dakh," the National Yiddish Theatre Folksbiene's Yiddish-language production, directed by Joel Grey, now in its third run and venue at New World Stages, the actors all reach for the mezuzah. It's really a pantomime. Beowulf Boritt's set of crinkled paper panels — suggesting the vellum of holy books rumpled by travel or pogrom — is decidedly minimal. The impression is one of transience, that a custom performed upon entering and leaving a home has more permanence than physical walls. In the end, this turns out to be true.
The mezuzah-kissing tells us we're in a kosher hoyz; the Yiddish, as delivered by returning Lortel Award-winner Steven Skybell and company, particularizes what was designed to be universal. And yet, the tension remains. The soaring production, brimming with life and as unmissable as before, wrestles with two dueling traditions: the broad appeal of the original show and the specificity of an ethno-language that was once the lingua franca of most of the Jewish world, but is now spoken by only around 1 million people.
The opening number, "Traditsye," plays out as you remember, with Shraga Friedman's translation skewing more colloquial (tallis-katan, not "little prayer shawl"). But the underlying primer on shtetl society feels odd when delivered in this vernacular. Surely, Yiddish speakers know all this. Who is Tevye addressing? Landsmen or the broader world? If the latter, why would he expect to be understood? Perhaps he knows he's flanked by Russian and English supertitles.
In an early draft of the Broadway show, "Tradition" was "We've Never Missed a Sabbath Yet," and followed Golde's harried preparation for Shabbat. 
The creators ultimately eschewed this lived-in family scene for a community-wide crash course in traditional Jewish life. As Bock said, the new number "helped us get on the road to other people outside of the Jewish people being able to appreciate what our story was about."
So what happens when "Tradition" becomes "Traditsye," and we see what the song spells out demonstrated in subtler ways?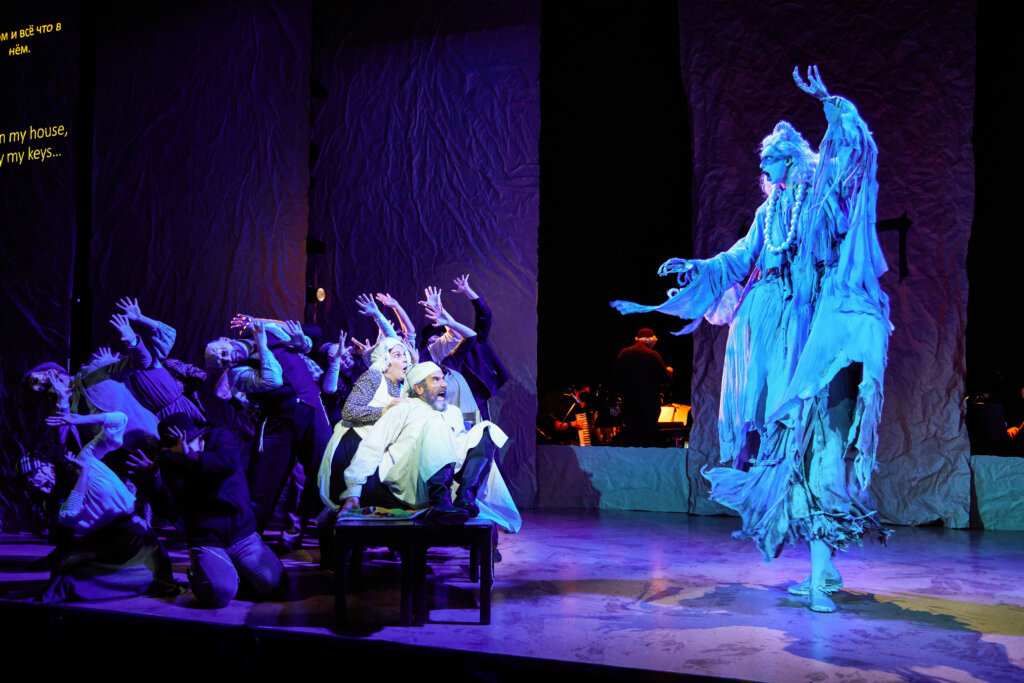 Jennifer Babiak (Golde), Steven Skybell (Tevye), Jodi Snyder (Fruma-Sore) and company in "Fiddler on the Roof" in Yiddish. Photo by Jeremy Daniel
Tevye's muddled midrash is now strewn with erroneous attributions to Rashi. Jennifer Babiak's Golde puh-puh-puhs the evil eye. (There's a lot of superstitious spitting going on.) Tevye's biddy-bums become a natural niggun in "Ven ikh bi a Rothschild" ("If I Were a Rich Man" — the new title is cribbed from a Sholem Aleichem story that doesn't feature Tevye). 
You'll hear, and read, such translation-resistant idioms as "like cupping can help a corpse" and the intuitive-in-context "Loy mitn alef" (as in "You want to marry this penniless socialist? Loy mitn alef. Absolutely not.")
Choreographer Staś Kmieć has introduced new physical vocabulary to Robbins' iconic staging by making use of traditional folk dances. Hodl's solo "Far From the Home I Love," when rendered as "Vayt fun Mayn Liber Heym" and sung by the wonderful Stephanie Lynn Mason, sounds like a wistful folk song Moyshe Beregovsky may have recorded on his journeys through Jewish villages.
The overall effect is a production that draws out the Yiddishkeit already bubbling beneath the surface, informed by Sholem Aleichem's oeuvre and the collective historical memory of Jerry Bock, Sheldon Harnick, Jerome Robbins and Joseph Stein, who wrote the book — and, of course, Mostel's own indelible stamp.
The story of "Fiddler" is circular, and by the end, Skybell's Tevye hitches his cart (his kingdom for a non-lame horse), lugging his belongings around the stage, three daughters lighter, but laden with a new ancestral trauma. An edict has expelled the whole community from Anatevka. They walk with their loads in a circle, mirroring the movements of the jubilant beginning — or, if you like, modern residents of Ukraine.
The wisdom of the original creative team, in centering the theme of tradition writ large, proves to be tamper-proof for almost any culture, even in its restoration to the mamaloshen. As Solomon noted of the translation, the text reaches a kind of apotheosis of scholar Jeffrey Shandler's theory of "post-vernacular Yiddish," in which the use of Yiddish words, with all their associations, take on a greater meaning than the words themselves for a non-Yiddish-speaking audience.
Why would Tevye tell us, in Yiddish, the things a Yiddish speaker would already know? Because at the beginning and the end, he is not merely the dairyman of legend. He is an ambassador from a past upended by the constants of Jewish life: disruption and reinvention guided by custom.
Of course he speaks in Yiddish, revels in and laments the passing of the old ways in Yiddish, dances and sings and petitions God in Yiddish. Yiddish — if not all Yiddishkeit — was a gutting cultural loss for countless Jewish families, the production makes clear, as others can't. It's a loss that goes beyond the duties of the mamas, papas, daughters and sons, and one that is also inseparable from how they lived.
A central joy of Yiddish "Fiddler," which deserves a chance to travel to all corners of the diaspora (the pandemic canceled a planned international tour), is how it serves as a revival. From the old tradition, a new one emerges — from something even older.
The post Yiddish 'Fiddler' returns, a stirring reminder of Jewish loss and revival appeared first on The Forward.