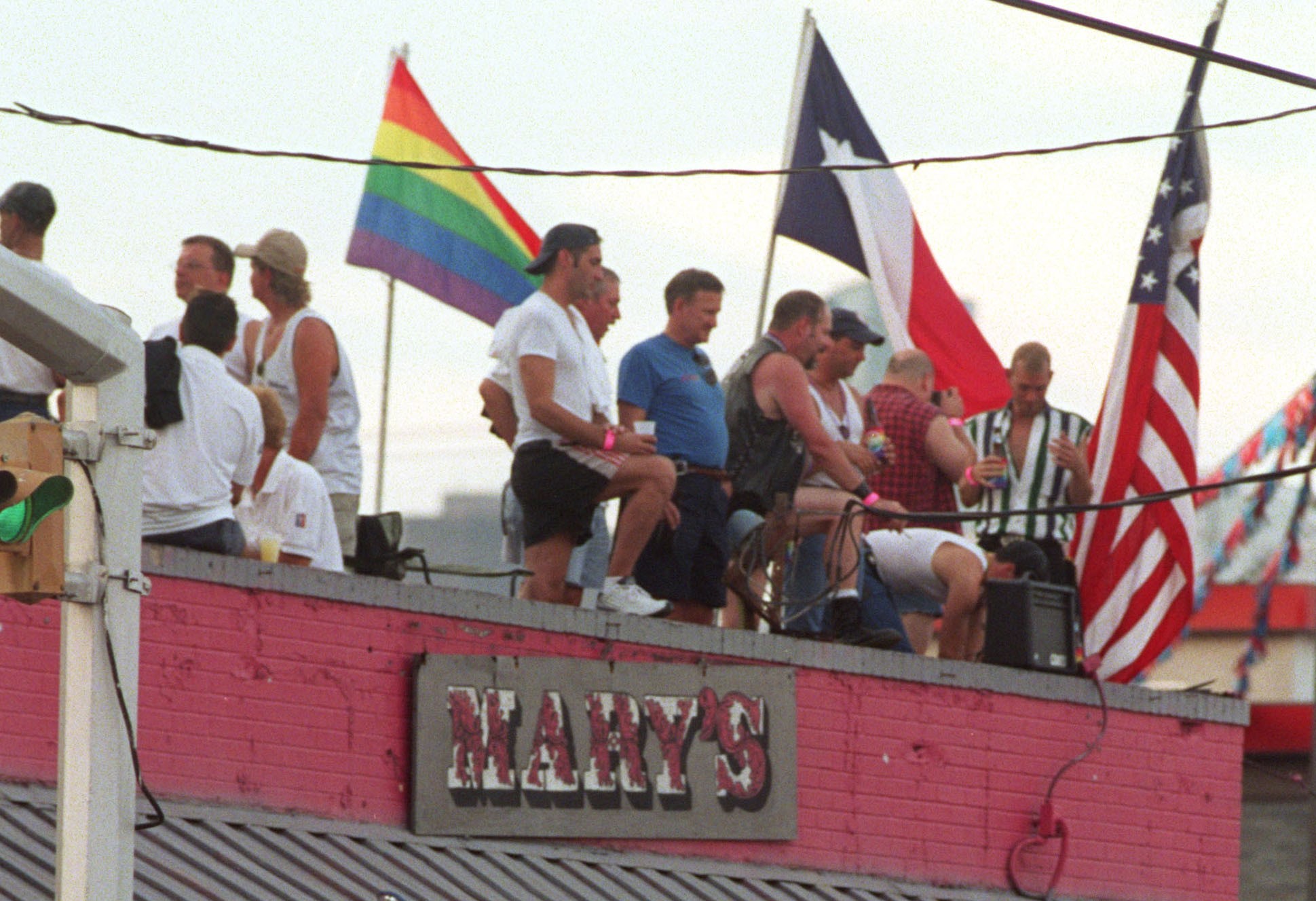 Montrose was once Houston's epicenter of LGBTQ+ culture and political organization and the home of the Houston Pride Parade.
The celebration has since moved downtown, the gayborhood's counterculture vibe encroached on by million-dollar townhomes, and while some remain—such as Eagle and Ripcord—many of Montrose's storied gay bars are now shuttered.
We take a look a handful of queer icons and what stands in their place today.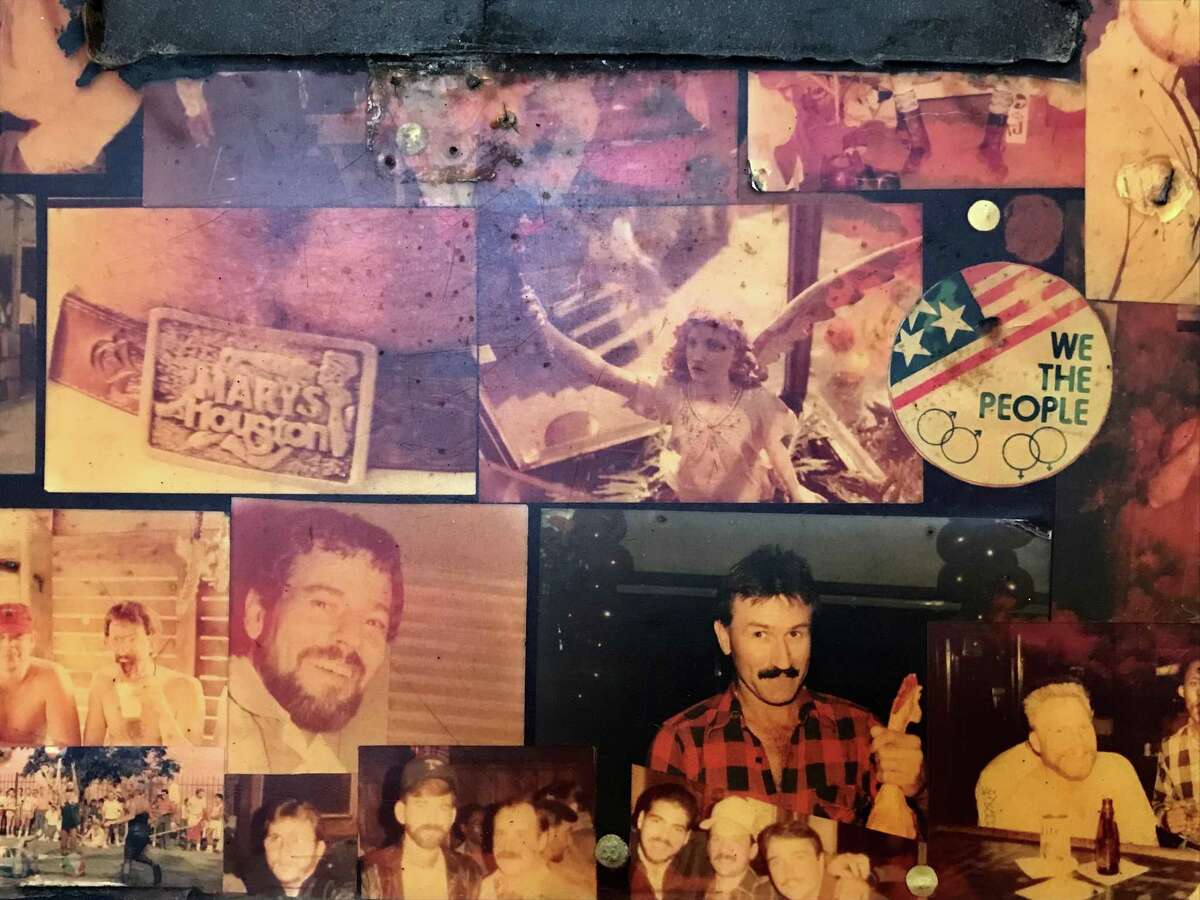 A detail of one of the fragments reclaimed from Mary's… Naturally from a 2021 exhibit at the Contemporary Arts Museum of Houston. During the AIDS crisis, patrons affixed photographs of friends to the surface of the bar.
Molly Glentzer / Houston Chronicle
Then: Chances
Chances opened in 1994 at 1100 Westheimer as a bar that catered to lesbians in particular, and others in the LGBTQ community. Owner Marlene Beago hosted regular fundraisers at the bar. Flyers collected by Houston LGBT History show that there was always live music at Chances, which had separate rooms throughout the venue, including The Barn and The G-Spot.
When Chances closed in 2010, the Houston Press reported that it would become "a high-end restaurant, with a superstar chef that [the property owners] are keeping under wraps for now."
Now: Chances became a series of restaurants by Chris Shepherd—Underbelly, Hay Merchant and Georgia James—which are now all closed. The land has been sold to a Dallas-based company, but there's no word yet on a new leasee.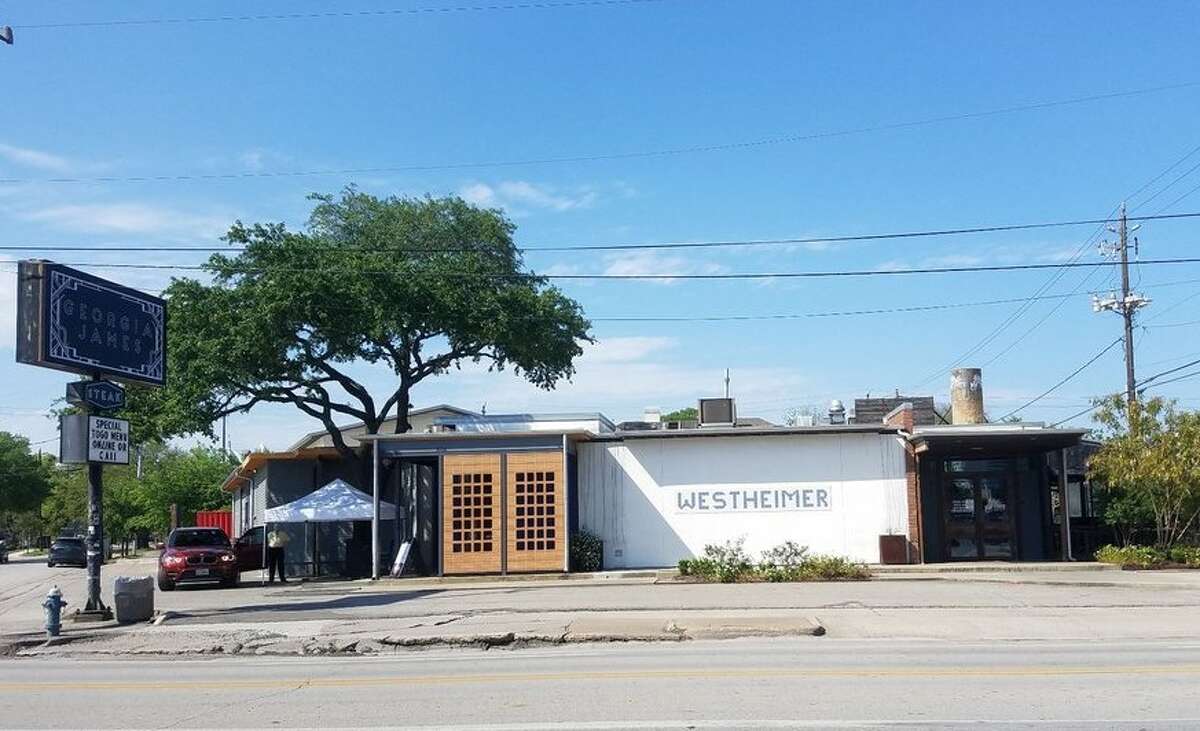 The exterior of Georgia James, now also closed.
Yelp/Fox E
Then: EJ's Bar
EJ's Bar was around for 40 years, from 1974 to 2014, first on Richmond Avenue and then on Ralph Street just off Westheimer. According to Houston LGBT History, the original owners also operated Inside/Outside, which is now Present Company. Both bars were packed with entertainment from jock strap contests to drag performances by Rainbo de Klown.
The last owner of EJ's posted a long message to the bar's Facebook page explaining the circumstances of the closure, concluding with: "While I believe there will always be a need for LGBT bars, the writing is on the wall for the need for so many LGBT bars. This is the price we pay for greater acceptance in the mainstream community, but our community has found other ways to connect and support each other, and that is something to celebrate."
Now: The EJ's space is currently taken up by La Grange, a Tex-Mex restaurant and cocktail bar with a huge patio. La Grange still hosts drag shows and the occasional fundraiser for LGBTQ causes.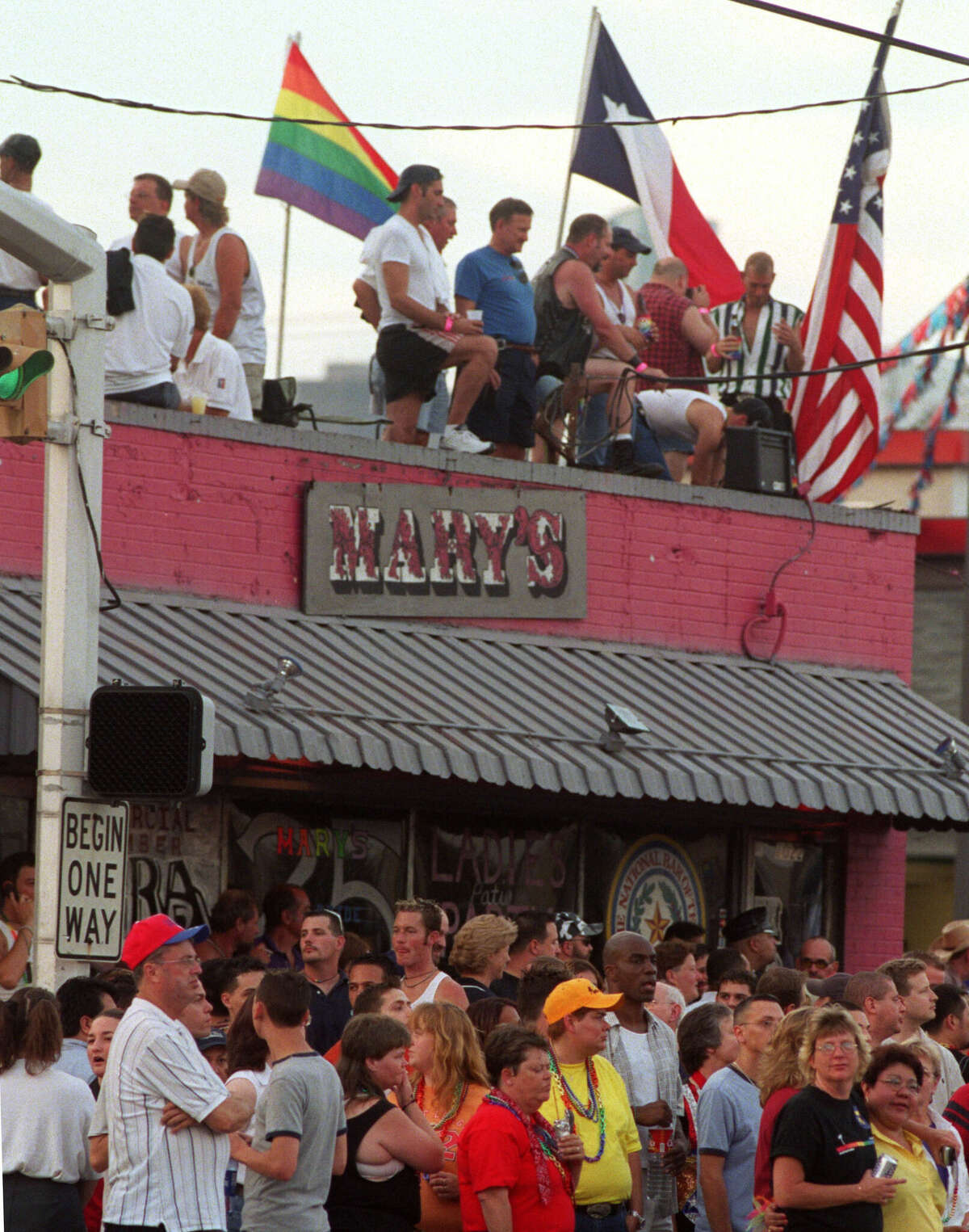 Parade goers crowd the sidewalk and roof of Mary's, a landmark gay bar in Houston's Montrose neighborhood.
Ben DeSoto/Houston Chronicle
Then: Mary's, Naturally
Mary's was arguably the most iconic of Houston's gay bars. Previously called Tommy's Lounge, Joe and Mike Anthony bought the bar around 1970, according to Houston LGBT History, and renamed it Mary's. It was the oldest gay bar in Houston and the second oldest in Texas, its pink brick building the host of many parties, especially during the annual Pride Parade. Mary's also had murals depicting regular customers and the bar cat, Mr. Balls.
During the height of the HIV/AIDS epidemic, ashes of beloved bargoers and community members were scattered in the backyard garden. Mary's closed in 2009 and that memorial area is now a parking lot.
Now: Blacksmith, a trendy coffee shop that slings cortados and chai lattes, stands where Mary's once was. See if you can spot the pink triangle on Blacksmith's floor, a nod to the bar.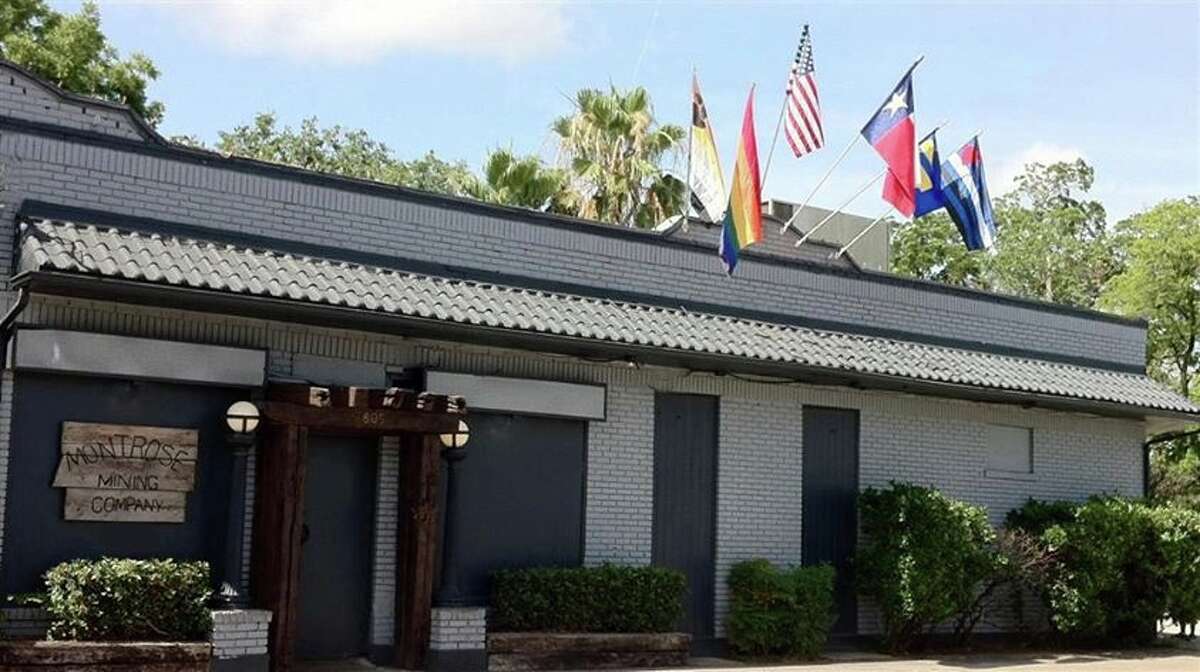 Montrose Mining Company closed in 2016 to make way for Postino Montrose.
courtesy photo
Then: Montrose Mining Company
When EJ's closed, the crown of oldest Houston gay bar went to Montrose Mining Company, which opened in 1978 at 805 Pacific Street. It had been cruise bar Uncle Charlie's before that. A grand opening flyer and others materials published in Houston LBGT History tout Montrose Mining Company touts as a bar "for the man's man." The venue's Pride Parade float appeared to be, at least for some years, a tractor with the message "proud to be serving Houston's hot men."
In 2016, Montrose Mining Company closed and was sold to developer Fred Sharifi of SFT Investments.
Now: Montrose Mining is now Postino Montrose, a local wine bar chain that has a few locations around Houston. There is a wall inside the restaurant dedicated to old photos and flyers of the gay bars that came before.