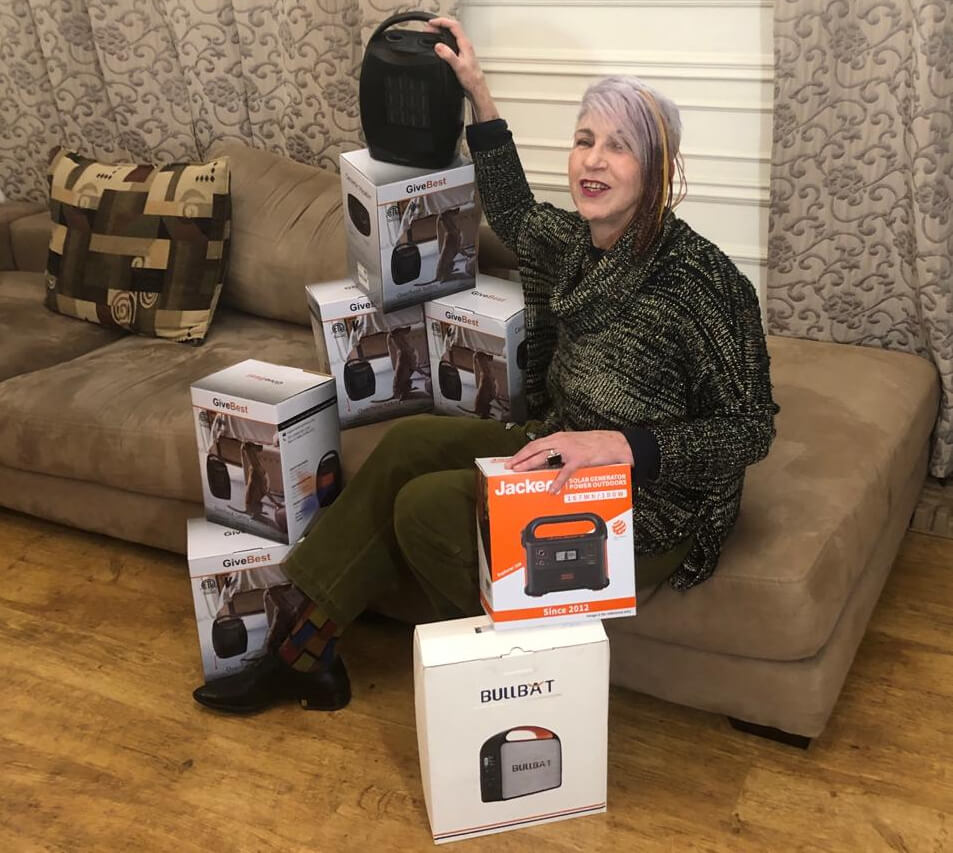 Ukrainian President Volodymyr Zelenskyy goes before Congress Wednesday to shore up American resolve to assist Ukraine. He will ask for military assistance. I ask for space heaters.
I live in an apartment in the city's center. Some of my neighbors have seen missiles fly into the snow-covered streets. The Russians are targeting Ukrainian power plants, so I get heat only sporadically, and warm my place up with space heaters. When I don't have running water, I melt chunks of ice on my balcony. But my circumstances are better than many people in this city. They have been living in the dark for weeks.
Still, Jewish families are celebrating the Festival of Lights this week in Kyiv, a city where, when I was young, such celebrations would never occur publicly. I fled Ukraine 30 years ago because it was no place for a Jew, and spent most of my adult life in New York and Boston and returned because of my husband's business. My city is now a much more tolerant place. A giant menorah graces Maidan Nezalezhnosti square, a place of honor where Ukrainians commemorate, among other historical events, the Ukrainian Revolution. I was astonished and delighted to see it there.
My American friends wonder why I don't leave Ukraine. Come home to safety, they say, reminding me that I'm an American citizen. I am a proud American, but I need to stay here now and help others who can't help themselves. So my American friends ask how they can help. One thing I thought to do was to connect American synagogues to a Ukrainian synagogue, which I came to know writing for the Forward about how Jews are faring during the war. I trust Rabbi Reuven Stamov to funnel contributions and good to needy people, Jewish or not.
Solar chargers, solar lamps, flashlights, and other appliances and devices to keep the darkness at bay and to keep us connected to each other and the outside world are almost always sold out in Ukraine. Space heaters are also nearly impossible to find. On the rare occasion when you find an appliance or device in a store, the prices are so high that most families can't afford them.
A few weeks ago I reached out to more than 20 synagogues for help. I thought it would be a great mitzvah for them to help provide these devices to families in Kyiv. The significance of such a gesture as Hanukkah approached was not lost on anybody.
The first to respond was Paulette Black from the sisterhood at Beth El Temple Center in Belmont, Massachusetts, a Reform synagogue outside Boston.
I'm also working with Rabbi Stephanie Kolin of Congregation Beth Elohim in Brooklyn, which has just placed orders for $2,000 worth of devices from Amazon that are heading to Ukraine; Rabbi Annie Tucker of Temple Israel Center in White Plains, New York; and Rabbi Shul Passow of B'Nai Jeshurun in New York City. I hope other American synagogues will help too.
The first shipment — of five portable space heaters — arrived on Friday, and the second — two portable generators — came on Tuesday.
I have also raised $3,000 to buy more of these goods through my daughter's network of friends. My husband and I left Ukraine with her when she was a baby and raised her in the Boston area. She now works for The Vilna Shul, Boston's center for Jewish culture.
I'll pass on what I gather to Stamov, who will distribute them to members of his congregation and others who come to the shul when they need food, as well as medical and spiritual care.
His community is about 100 families spread around the country, with about 30 in Kyiv and 30 in Odesa. The Russians have hit Odesa hard — the blackout there began three weeks ago.
Stamov is also the rabbi for smaller Jewish communities around the country. He is visiting Rivne, in Western Ukraine, this week, where he is presiding at Hanukkah and Shabbat gatherings for 50 people. Many of them had left Ukraine earlier in the war but have returned to be with their families and their rabbi. He told me that they have four hours without power each day and then two hours with power so people with phones, tablets and laptops can recharge them.
The group is celebrating the holiday as if it was the first. They had candles, but no electricity.
People are praying, the rabbi told me, for peace and that the "light not to go out."
The post It's dark in Kyiv. On Hanukkah, I call on American Jews to help. appeared first on The Forward.