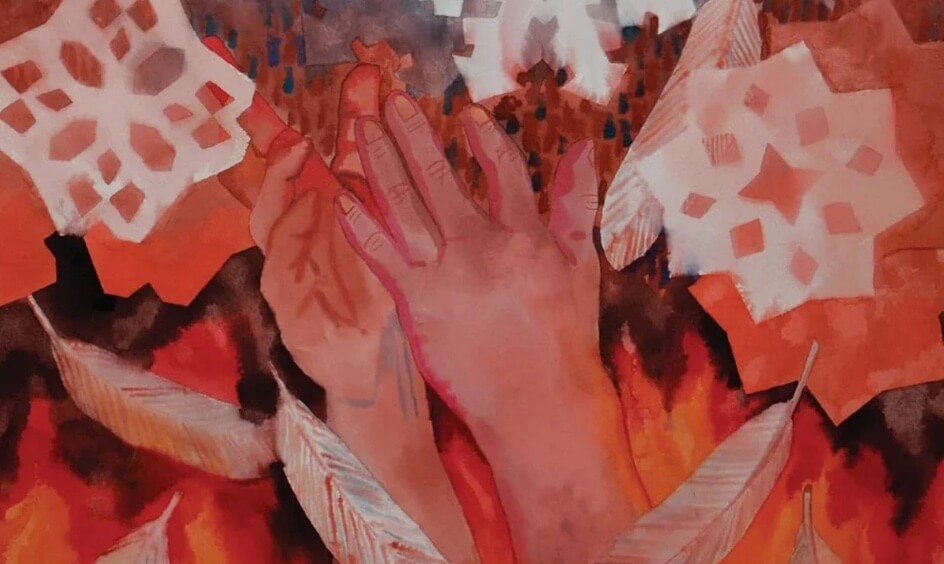 מיר זײַנען שױן לאַנג צוגעװױנט צו לײענען כּלערלײ טעקסטן אױף עלעקרטאָנישע מכשירים, און אַ דאַנק דער ייִדישער ביכער־צענטראַלע קען איצט יעדער אײנער פֿרײַ אַראָפּלאָדן העכער װי צען טױזנט ייִדישע ביכער.
מען האָט שױן פֿאָרױסגעזאָגט אַז אין גיכן װעט דאָס פּאַפּירענע בוך לגמרי אָפּשטאַרבן. אָבער ווי אױף צו להכעיס אַלע דאָזיקע נבֿיאות פֿאַרבלײַבט די ייִדישע ביכער־פּראָדוקציע גאַנץ לעבעדיק. אַ סימן דערפֿון זײַנען צװײ נײַע פּובליקאַציעס: יצחק באַשעװיסעס "מעשׂיות פֿון הינטערן אױװן", וואָס ווערט באַגלייט מיט אַ הקדמה אויף ייִדיש און אויף ענגליש פֿונעם ליטעראַטור־עקספּערט מאַרק קאַפּלאַן, און אַבֿרהם סוצקעװערס פּאָעמע "אָדע צו דער טױב", וואָס ווערט געדרוקט מיט אַן ענגלישער איבערזעצונג און אַ הקדמה פֿונעם פּאָעט שלום בערגער. דאָס זײַנען שײנע מתּנות פֿאַר ליבהאָבער פֿון ייִדיש װי אױך פֿאַר לערער און תּלמידים אין אַװאַנסירטע ייִדישע לימודים.
"מעשׂיות פֿון הינטערן אױװן", אַרויסגעלאָזט פֿונעם "ציקאָ ביכער-פֿאַרלאַג", איז אין דער אמתן אַן איבערדרוק פֿון זײַן פֿריִערדיקער אױסגאַבע פֿון באַשעװיסעס מעשׂיות, פּובליקירט אין 1982. די דאָזיקע זאַמלונג נעמט אַרײַן אײניקע פֿון זינגערס סאַמע באַקאַנטע דערצײלונגען, צװישן זײ "די קאַפֿעטעריע", "יענטל דער ישיבֿה־בחור" און "דער סעאַנס". "די דערצײלונגען אין דעם באַנד האָט באַשעװיס אָנגעשריבן נאָך דער צװײטער װעלט־מלחמה און דערפֿאַר נעמען זײ אַרום אַ רײ היסטאָרישע און געזעלשאַפֿטלעכע טעמעס װאָס באַדאַרפֿן אַ באַזונדערע דערקלערונג," שרײַבט קאַפּלאַן. "אָבער צװישן די בעסטע דערצײלונגען בלײַבן … די הױפּטטעמעס מיט װעלכע באַשעװיס צײכנט זיך אױס מיט זײַן פּען זינט די 1930ער יאָרן׃ אַנטי-ראַציאָנעלע און אַפֿילו איבערנאַטירלעכע פֿאָרקומענישן, צוזאַמען מיט די פֿאַרדאָרבנקײטן פֿון דער ער/זי–באַציִונג."
קאַפּלאַן האַלט, אַז די גרעסטע טעמאַטישע און סטיליסטישע השפּעה אױף באַשעװיסן האָט געהאַט זײַן פּױלישער לאַנדסמאַן, יצחק לײבוש פּרץ, װאָס האָט אַרײַנגעבראַכט די פֿאָלקלאָרישע טראַדיציע אין דער ייִדישער ליטעראַטור. אָבער אין אונטערשיד צו פּרצן מיט זײַן מאָדערנעם, ראַציאָנעלן און הומאַניסטישן עטאָס, האָט באַשעװיס זיך פֿאַרטיפֿט אין דער זעלבער טראַדיציע כּדי אױסצונוצן אירע אומראַציאָנעלע, משונהדיקע, דעמאָנישע אַספּעקטן, האַלט קאַפּלאַן. אַזױ אַרום האָט פּרץ "געדינט סימבאָליש װי דער פֿאָטער קעגן װעמען באַשעװיס האָט זיך אײביק רעבעלירט."
דאָ קען מען מסתּמא צוגעבן, אַז אָט די צװײ הױפּטטעמעס, װאָס קאַפּלאַן טײלט אױס אין באַשעװיסעס שאַפֿונג — דאָס אָפּזאָגן זיך פֿונעם ראַציאָנאַליזם פֿון דער השׂכּלה און די "משונהדיקע" עראָטישקײט — זײַנען שױן גאַנץ בולט בײַ פּרצן אױך, בפֿרט אין זײַן פֿאַנטאַסמאַגאָרישער דראַמע "בײַ נאַכט אױפֿן אַלטן מאַרק". דאָ און בײַ אַנדערע פּרצעס װערק געפֿינט מען אַ סך קערנדלעך, פֿון װעלכע עס װעלן שפּעטער אױסװאַקסן באַשעװיסעס מעשׂיות. אין דעם זין איז באַשעװיס פֿאַרבליבן געטרײַ דער ירושה פֿון זײַן "סימבאָלישן פֿאָטער" פּרץ.
דער ענין פֿון עראָטישקײט אין דער ייִדישער ליטעראַטור װאַרט נאָך אױף אַ געהעריקער פֿאָרשונג. און איך װאָלט אפֿשר ניט אין גאַנצן מסכּים געװען מיט קאַפּלאַנס קאַטעגאָרישער טענה, אַז "דער טראָפּ װאָס באַשעװיס שטעלט אױף אַ גרױליק און תּװהדיק געשלעכטס־לעבן האָט פֿאַרשעמט לײענערס װאָס האָבן קײן מאָל נישט אַנטװיקלט קײן גוסט אָדער אַפֿילו טאָלעראַנץ פֿאַר דער עראָטיק אין דער 'שײנער' ליטעראַטור." אין שײכות מיט דעם קען מען דערמאָנען אַזעלכע באַקאַנטע װערק פֿון שלום אַש װי די פּיעסע "דער גאָט פֿון נקמה", װאָס האָט גורם געװען אַ סקאַנדאַל אין ניו־יאָרק איבער דער שילדערונג פֿון ליבע צװישן צװײ פֿרױען, אָדער דער ראָמאַן "פּעטערבורג", דעם ערשטן אינטערנאַציאָנאַלן ייִדישן בעסטסעלער, װוּ מען געפֿינט אַן עפּיזאָד פֿון אינצעסט. אין די 1920ער־1930ער יאָרן איז די אַמעריקאַנער ייִדישע ליטעראַטור געװען אַפֿילו דרײסטער אין שילדערונגען פֿון כּלערלײ עראָטישע באַגערן אײדער די הױפּטשאָטראָמיקע ליטעראַטור אױף ענגליש, װאָס האָט זיך געמוזט צופּאַסן צו דער שטרענגער קריסטלעכער צענזור.
אַזױ אַרום קאָן מען זאָגן, אַז באַשעװיסעס זיך־אימאַזש װי אַ בונטאַר קעגן דער ייִדישער ליטעראַרישער טראַדיציע איז געװען אַ מין בכּיװנדיקע פּראָװאָקאַציע. געװיסע װערק זײַנע זײַנען טאַקע ניט געװען צום האַרצן די שומרים פֿון צניעות אין דער ייִדישער ליטעראַטור, אָבער אין תּוך גענומען האָט ער ממשיך געװען די טענדענצן פֿון זײַנע פֿאָרגײער און מיטצײַטלער, פּרצן און שלום אַשן. להיפּוך צו אַשן, האָט באַשעװיס קײן מאָל ניט געליטן פֿון װאָסער ניט איז עפֿנטלעכע סקאַנדאַלן.
אַזױ װי באַשעװיסעס "מעשׂיות פֿון הינטערן אױװן" איז סוצקעװערס "אָדע צו דער טױב" אױך אָנגעשריבן געװאָרן נאָכן חורבן. אָבער די דאָזיקע פּאָעמע איז אַ בשׂורה פֿון אַ גאָר אַנדער װעלט װי באַשעװיסעס מעשׂיות. דעם דיכטערס שליחות האָט גאָר ניט צו טאָן מיט "שאַפֿן אַ לאַנד אָדער אַ ציבור", דערקלערט בערגער אין זײַן הקדמה פֿונעם בוך וואָס איז פּובליקירט געוואָרן דורך "בן־יהודה פּרעס". דער דיכטער איז אַ יחיד, װאָס שאַפֿט אַן אײגענעם טעמפּל פֿון קלאַנגען׃ "דאָ, מיט דער פּען, דיריזשיר איך אַן אײגענע, שטילע קאַפּעליע". בערגער באַטאָנט, אַז סוצקעװער נוצט דװקא דעם אינטערנאַציאָנאַלן װאָרט "טעמפּל" און ניט דעם לשון־קודשדיקן "בית-המקדש". אַזױ איז סוצקעװער ממשיך די טראַדיציע פֿון די פּױלישע ראָמאַנטישע דיכטער אַדאַם מיצקעװיטש, יוליִוש סלאָװאַצקי און ציפּריאַן נאָרװיד, װאָס ער האָט בהתמדה שטודירט אין דער פּױליש־ייִדישער גימנאַזיע אין װילנע. בערגער שליסט זײַן הקדמה מיט אַ פֿראַגע׃ צו װעמען װענדט זיך סוצקעװער אין אָט דער פּאָעמע, װאָס איז אָנגעשריבן געװאָרן אין 1954 אין תּל־אָבֿיבֿ? און ער איז משער׃ "אפֿשר צו די טױטע װאָס שלעפּן דעם דיכטער פֿון זײַן געלעגער און נעמען אים אַרום אין אַ בײַנאַכטיקער האַלדזונג".
געװײנטלעך לײענט מען סוצקעװערס לידער אין פּאָעטישע זאַמלביכער, אײנס נאָכן צװײטן. בערגערס ביכל לאָזט פּאַמעלעך אַרײַנזאַפּן דעם שװערלעכן ריטעם און לאַנגע שורות פֿון אַן אײן און אײנציקער פּאָעמע. אױף יעדער זײַט װאַנדערט דעם לײענערס קוק צװישן דעם ייִדישן מקור אױבן און דער ענגלישער איבערזעצונג אונטן, און צװישן די זײַטן מאַכט מען אַ פּױזע אױף די פֿאַרכּישופֿדיקע פֿאַרביקע אילוסטראַציעס פֿון ליאורה אָסטראָף. קײן שום דיגיטאַלישע קאָפּיע איז ניט ביכולת צו פֿאַרבײַטן די דאָזיקע איבערלעבונג פֿון לאַנגזאַם לײענען און מישן די זײַטן.
צו באַשטעלן "מעשׂיות פֿון הינטערן אויוון", שיקט אַ בליצבריוו צו CYCOBOOKS@aol.com.
צו באַשטעלן "אָדע צו דער טויב", גיט אַ קוועטש דאָ.
The post Two new hard copies of works by I. B. Singer and Sutzkever  appeared first on The Forward.