US NatGas Plunges On Reports Of Explosion At Texas LNG Export Terminal
A "small explosion" at Freeport LNG terminal in Surfside Beach, Texas, resulted in the plunge of natural gas futures on Wednesday afternoon. 
Local news KHOU reports the incident occurred around 1140 local time in the 1500 block of Lamar Street at the facility on Quintana Island. 
"We are in the process of monitoring the situation and will provide information accordingly," Director of Corporate Communications Heather Browne told The Facts. 
Important Update from member company Freeport LNG:

An incident occurred at the Freeport LNG facility on Quintana Island at about 11:40 am on June 8. An investigation is ongoing and updates will be provided soon.

At this time, CAER has no additional information. pic.twitter.com/X490VlZvzk

— Brazosport CAER (@bportCAER) June 8, 2022
The Facts posted a picture of the export terminal showing black smoke rising from the facility.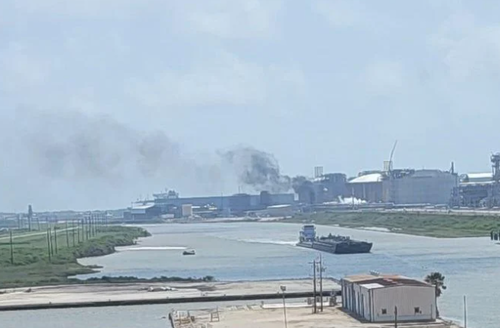 Natgas contracts slumped as much as 12% on the news to $8.43.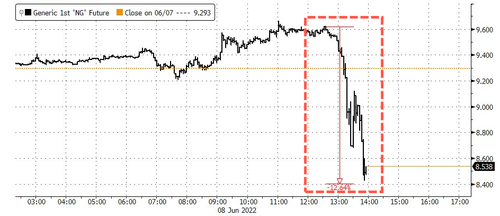 In a tweet, we noted that the price slump is in response to the prospect that fewer LNG exports would mean more supply domestically, though inversely, it would mean higher prices in Europe since the US has been increasingly sending LNG across the Atlantic to ween European countries off Russian supplies.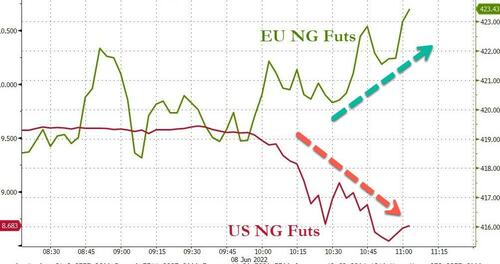 When US nat gas hits $15 this winter, maybe consumers will ask if exporting so much to Europe is worth the soaring costs https://t.co/7le8W9nqyl

— zerohedge (@zerohedge) June 8, 2022
*Developing… 
Tyler Durden
Wed, 06/08/2022 – 14:20