Rob Bauer, chairman of NATO's Military Committee, recently said that the alliance is "ready" for a direct confrontation with Russia as the country continues to fight in Ukraine.
Bauer, an admiral in the Royal Netherlands Navy, told a Portuguese television channel, RTP, that NATO is focused on rearmament as Russian President Vladimir Putin's strategic objectives go beyond Ukraine and could possibly expand to neighboring countries.
The chairman, who is reportedly advocating "peacetime war economy," added that it is important for NATO nations to direct civil industrial production towards military objectives.
However, Chinese military experts warned against NATO's involvement in the war in Ukraine, noting that the "danger of 'another World War' in Europe is increasing," the Global Times, a Chinese state media outlet, reported on Sunday.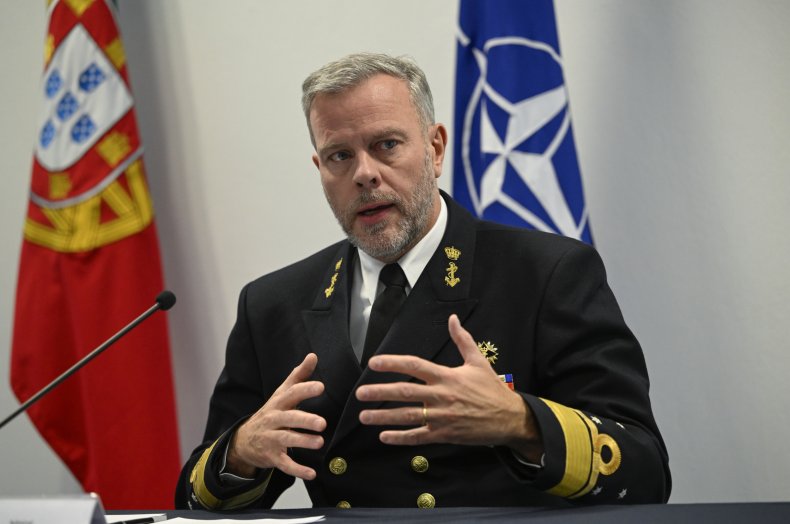 The chairman of NATO's Military Committee, Admiral Rob Bauer, is seen on January 20 in Oeiras, Portugal. Bauer recently said that the alliance is "ready" for a direct confrontation with Russia as the country continues to fight in Ukraine.
Photo by Horacio Villalobos#Corbis/Corbis via Getty Images
Some NATO members, including the United States, recently announced that they will provide Ukraine with tanks to help Ukrainian forces fight Moscow's invasion.
The U.S. is set to send an additional $3.75 billion in military assistance to Ukraine, which includes 50 Bradley Infantry Fighting Vehicles, bringing the overall security assistance by the U.S. to Ukraine to approximately $27.2 billion since Putin launched his invasion last February.
"Kiev will always pay efforts to drag its NATO allies to directly fight with Russian troops in Ukraine, as this is probably the only way for Kiev to turn around the current situation. But Washington is not stupid, so it won't be used by Kiev, but will keep using Kiev to undermine Moscow," Song Zhongping, a Chinese military expert and TV commentator, told the Global Times Sunday.
Meanwhile, Wei Dongxu, a Beijing-based military expert, told the Chinese media outlet that Ukrainian troops might be able to launch counter offensives in some areas that are currently occupied by the Russians by the end of the winter or shortly afterwards. This could happen if the West supplies Ukraine with F-16 fighter jets, "armed by NATO members," main battle tanks, and long-range missiles.
Last month, former Russian President Dmitry Medvedev suggested that members of the NATO military alliance providing Ukraine with assistance could be "legitimate military targets."
Medvedev, who is now the deputy chairman of Russia's Security Council, questioned whether the delivery of weapons to Ukraine by NATO nations could be considered an attack on Russia.
"Today…the main question is whether the hybrid war de facto declared on our country by NATO can be considered to be the alliance's entry into war with Russia? Is it possible to view the delivery of a large volume of weapons to Ukraine as an attack on Russia?" he said.
Newsweek reached out to the Russian foreign affairs ministry for comment.