Fans of the Sacramento Kings will be treated to a Hanukkah surprise at tonight's home game: sufganiyot paid for by the team's all-star power forward, Domantas Sabonis.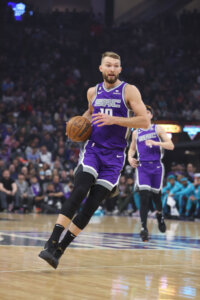 Domantas Sabonis in action for the Kings. Photo by Lachlan Cunningham/Getty Images
Sabonis, a Lithuanian American who played at Gonzaga University, isn't Jewish — but his wife, Shashana is, and their toddler has a Hebrew name.
The Sabonises announced the giveaway — the first 500 fans to visit section 111 in the Golden 1 Center's lower bowl get a free jelly donut — on their Instagram pages Wednesday. (If you weren't already aware, deep-fried jelly donuts recall the oil that miraculously lasted eight days in the Hanukkah story.)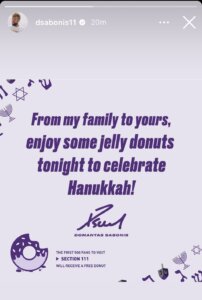 Sabonis' announcement today. Photo by screenshot from Instagram/@dsabonis11
Shashana Sabonis (née Rosen) attended Milken Community High School, a Jewish school in Los Angeles, and married the former Indiana Pacer in a Jewish ceremony on the French Riviera in 2021. She runs a dance studio for kids called The Movement.
On her Instagram account earlier this year, Shashana revealed that the couple's child, Oliver Tiger Sabonis, also has a Hebrew name: Shiloh. And Domantas Sabonis is clearly hip to some of Los Angeles' Jewish cultural landmarks, as he's known to bring his wife goodies from Canter's Deli when the Kings are in Los Angeles.
She also wrote that the couple plans to raise their kids Jewish, including by teaching them Hebrew.
"That's something Domas brought up like week 1," she said on her Instagram story in September. "He knew I wasn't going to take him serious bc of religion. I am a practicing Jew, I have been my whole life, that was not something I was willing to compromise on."
The couple met at Catch, a trendy restaurant in Los Angeles opened by Jewish nightlife impresario Mark Birnbaum.
Domantas Sabonis, a 7-footer whose father Arvydas Sabonis is in the Naismith Basketball Hall of Fame, is one of at least two NBA players with a Jewish spouse. The other, Kevin Love, married Kate Bock under a chuppah at the New York Public Library this summer.
They aren't the only American professional basketball players celebrating Hanukkah this year: the Wizards' Deni Avdija, the NBA's only active Jewish player, lit candles before taking on the Lakers in Los Angeles, and Ryan Turell of the G League's Motor City Cruise participated in a public lighting ceremony in Detroit.
The post Why a non-Jewish NBA player is buying Hanukkah donuts for fans appeared first on The Forward.