All photos are courtesy of Nikolay Busygin, Beit Avi Chai
אינעם ירושלימער קולטור־צענטער "בית אבֿי חי" האָט זיך געעפֿנט אַן אויסשטעלונג פֿונעם סאָוועטיש־ייִדישן קינסטלער און סקולפּטאָר תּנחום (אַנאַטאָלי) קאַפּלאַן. די אונטערנעמונג הייסט "אַ פֿאַרכּישופֿט בילד" ("ציור מכושף" אויף העברעיִש) אָדער "דער באַצויבערטער קינסטלער" (The Enchanted Artist). ס׳רובֿ עקספּאָנאַנטן – בסך־הכּל מער ווי 100 – ווערן צום ערשטן מאָל געוויזן אין ישׂראל. דער אַרײַנטריט איז פֿרײַ פֿון אָפּצאָל. נאָך אַ גרעסערע אויסשטעלונג פֿון קאַפּלאַנס ווערק פּלאַנירט דער צענטער צו עפֿענען אויף דער אינטערנעץ.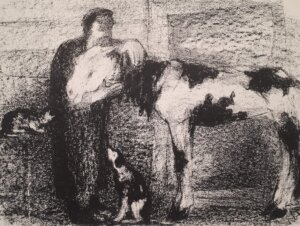 ס׳איז וויכטיק צו באַמערקן, אַז קאַפּלאַן  (1902–1980) איז געווען אי אַ ייִדישלעכער, אי אַ ייִדיש־קינסטלער; במשך פֿון זײַן לעבן האָט ער געשאַפֿן אַ סך פּרעכטיקע אילוסטראַציעס צו פֿאַרשיידענע ווערק פֿון ייִדישע שרײַבער און צו ייִדישע פֿאָלקסלידער, כּסדר באַגלייט מיט זײַנע אייגענע קינסטלערישע אויפֿשריפֿטן אויף ייִדיש. במשך פֿון די לעצטע צען יאָר האָט דער מאָסקווער פֿאַרלאַג "קניזשניקי" אַרויסגעגעבן אַ גאַנצע סעריע ביכער, איבערגעזעצט אויף רוסיש, מיט קאַפּלאַנס אילוסטראַציעס: "פֿישקע דער קרומער", "סטעמפּעניו", "טבֿיה דער מילכיקער" און "דער פֿאַרכּישופֿטער שנײַדער". די הײַנטיקע אויסשטעלונג אין ירושלים איז אָנגערופֿן געוואָרן אויפֿן סמך פֿון אָט דער באַקאַנטער שלום־עליכמס מעשׂה ("דער פֿאַרכּישופֿטער שנײַדער").
דער קינסטלער איז געבוירן געוואָרן בײַ דער משפּחה קאַפּלון אינעם ווײַסרוסלענדישן שטעטל ראָגאַטשאָוו (ראָהאַטשאָוו). אין דער ייִדישער וועלט ווערט דאָס דאָזיקע אָרט אַסאָציִיִרט מיטן ראָגאַטשאָווער גאָון, הרבֿ יוסף ראָזען (1858–1936) – אַ גרויסן תּלמיד־חכם אַ חב״דניק, וואָס האָט געהערט נישט צו דער ליובאַוויטשער, נאָר צו דער אַמאָליקער קאָפּוסטער צווײַג פֿון דער דאָזיקער חסידישער באַוועגונג. אין דער זעלבער שטאָט איז  געבוירן געוואָרן דער באַוווּסטער ייִדישער דיכטער און שרײַבער שמואל האַלקין, וועלכער האָט אויך געשטאַמט פֿון אַ חב״דסקער משפּחה.
צי האָט חסידות משפּיע געווען אויף קאַפּלאַנס פֿאָלקסטימלעכן סטיל, אויף זײַן ליבשאַפֿט צום ייִדישן שטעטל, איז אַן אינטערעסאַנטע פֿראַגע; דאָס טראַדיציאָנעלע שטעטלדיקע לעבן איז געווען אַ שטענדיקער לייטמאָטיוו אין זײַנע קונסט־שאַפֿונגען. ווען קאַפּלאַן האָט געשילדערט שלום־עליכמס אוקראַיִנע, האָט ער זיך אַלעמאָל פֿאָרגעשטעלט פֿאַר זײַנע אויגן זײַן קינדהייט און יוגנט אין ווײַסרוסלאַנד.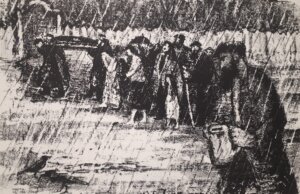 אַ גרויסע ראָלע אין קאַפּלאַנס ביאָגראַפֿיע פֿאַרנעמט די עקספּערימענטאַלע ליטאָגראַפֿישע קונסט. זײַן ערשטן ציקל ליטאָגראַפֿיעס (1937–1940) האָט ער געווידמעט כּתריאלעווקע – מיינענדיק, אין דער אמתן, ראָגאַטשאָוו. נאָך דער צווייטער וועלט־מלחמה, ווען דער קינסטלער האָט זיך אומגעקערט פֿון עוואַקואַציע קיין לענינגראַד אין 1944, האָט ער געשאַפֿן אַ סעריע ליטאָגראַפֿיעס פֿון די פֿינצטערע מלחמהדיקע חורבֿות אין דער שטאָט.
אַ ריי קונסט־קריטיקער פֿאַרגלײַכן אים מיט מאַרק שאַגאַלן. ביידע מאָלער האָבן אויסגעאַרבעט אַן אייגנאַרטיקן כּמו־פּרימיטיוון סטיל, פֿאַרוואַנדלענדיק פּראָסטע שטעטלדיקע פּייזאַזשן אין וווּנדערלעכע "פֿאַרכּישופֿטע" סצענעס. שאַגאַלס בילדער האָבן אָבער אַ סוררעאַליסטישן אַוואַנגאַרד־טעם, און קאַפּלאַנס שפּעטערדיקע ווערק, אָנהייבנדיק פֿון די 1960ער יאָרן, זענען דורכגעזאַפּט מיט טראַדיציאָנעלע סימבאָלן פֿון דער ייִדישער פֿאָלקסקונסט, וואָס דערמאָנען אין די אַלטע פּאַפּירשניטן, שיל־געמעלן און מצבֿות. זײַנע ליטאָגראַפֿיעס צו מענדעלע מוכר־ספֿרימס בוך "פֿישקע דער קרומער" האָט ער געשאַפֿן אין אַן אוניקאַלן "מצבֿות־סטיל". אין זײַנע פֿאָלקישע אָרנאַמענטן מיט חיות און פֿייגעלעך שפּירט זיך סײַ אַ פֿעסטע פֿאַרבינדונג צום רעאַלן שטעטלדיקן עבֿר, סײַ עפּעס אַ מיסטישע יענוועלטישקייט.
ס׳רובֿ עקספּאָנאַנטן אויף דער איצטיקער ירושלימער אויסשטעלונג געהערן צום פּעטערבורגער פּאָרפֿאָלק יצחק און ליודמילאַ קושניר, וועלכע זענען בײַגעווען אויף דער עפֿענונג־צערעמאָניע דעם 19טן יאַנואַר. צווישן אַנדערע חשובֿע געסט איז פֿון פּעטערבורג ספּעציעל געקומען דער באַוווּסטער ייִדיש־פֿאָרשער וואַלערי דימשיץ.  דוד ראָזענסאָן, דער אויספֿיר־דירעקטאָר פֿונעם צענטער "בית אַבֿי חי" און דער דיכטער עמיחי חסון זענען געווען די קוראַטאָרן פֿון דער אונטערנעמונג. בעת דער צערעמאָניע האָט דער אַקטיאָר נתן רבֿיץ פֿאָרגעלייענט שלום־עליכמס ווערק אין דן מירונס העברעיִשער איבערזעצונג; דער זינגער און סאַקסאָפֿאָניסט דניאל זמיר האָט אויסגעשפּילט זײַנע אימפּראָוויזאַציעס פֿון חסידישע ניגונים.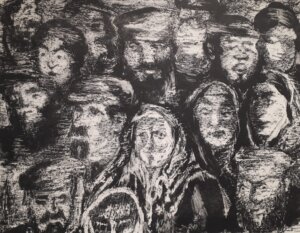 אויף דער וועבזײַט פֿון "בית אַבֿי חי" שטייט געשריבן, אַז תּחנום קאַפּלאַן איז געווען דער איינציקער קינסטלער, וואָס האָט אָפֿיציעל פֿאָרגעשטעלט די ייִדישע קולטור פֿונעם ראַטן־פֿאַרבאַנד. דאָס איז איבערגעטריבן: ס׳איז גענוג אַ קוק צו טאָן אויף די אילוסטראַציעס אינעם זשורנאַל "סאָוועטיש היימלאַנד" און אין דער צײַטונג "ביראָבידזשאַנער שטערן", געשאַפֿן דורך אַ גאַנצער ריי ייִדישע קינסטלער. ס׳איז אָבער טאַקע אמת, אַז נאָך סטאַלינס אַנטיסעמיטישע רדיפֿות איז די סאָוועטיש־ייִדישע קונסט געבליבן אויף זייער אַ באַשיידן, כּמעט באַהאַלטן אָרט. קיין צווייטער וועלט־באַרימטער בפֿירוש ייִדישלעכער קינסטלער, אַחוץ קאַפּלאַנען, איז טאַקע אינעם שפּעטערדיקן ראַטן־פֿאַרבאַנד נישט געווען. ווען קאַפּלאַן האָט נאָך געלעבט, זענען זײַנע ווערק שוין באַקאַנט געוואָרן איבער דער וועלט, הגם ער אַליין האָט זיך קיינמאָל נישט אײַנגעגעבן צו באַזוכן אַן אַנדער לאַנד. אין 1961, למשל, איז אַן אויסשטעלונג פֿון זײַנע ווערק פֿאָרגעקומען אין לאָנדאָן; קאַפּלאַן איז אָבער דעמאָלט געבליבן, ווי אַלעמאָל, אין לענינגראַד (הײַנט פּעטערבורג), ווי זײַן מצבֿה שטייט באַצירט מיט אַן אויפֿשריפֿט דווקא אויף ייִדיש.
The post Jerusalem exhibit: Soviet-Jewish artist Anatoli Kaplan's striking depictions of Jewish life appeared first on The Forward.