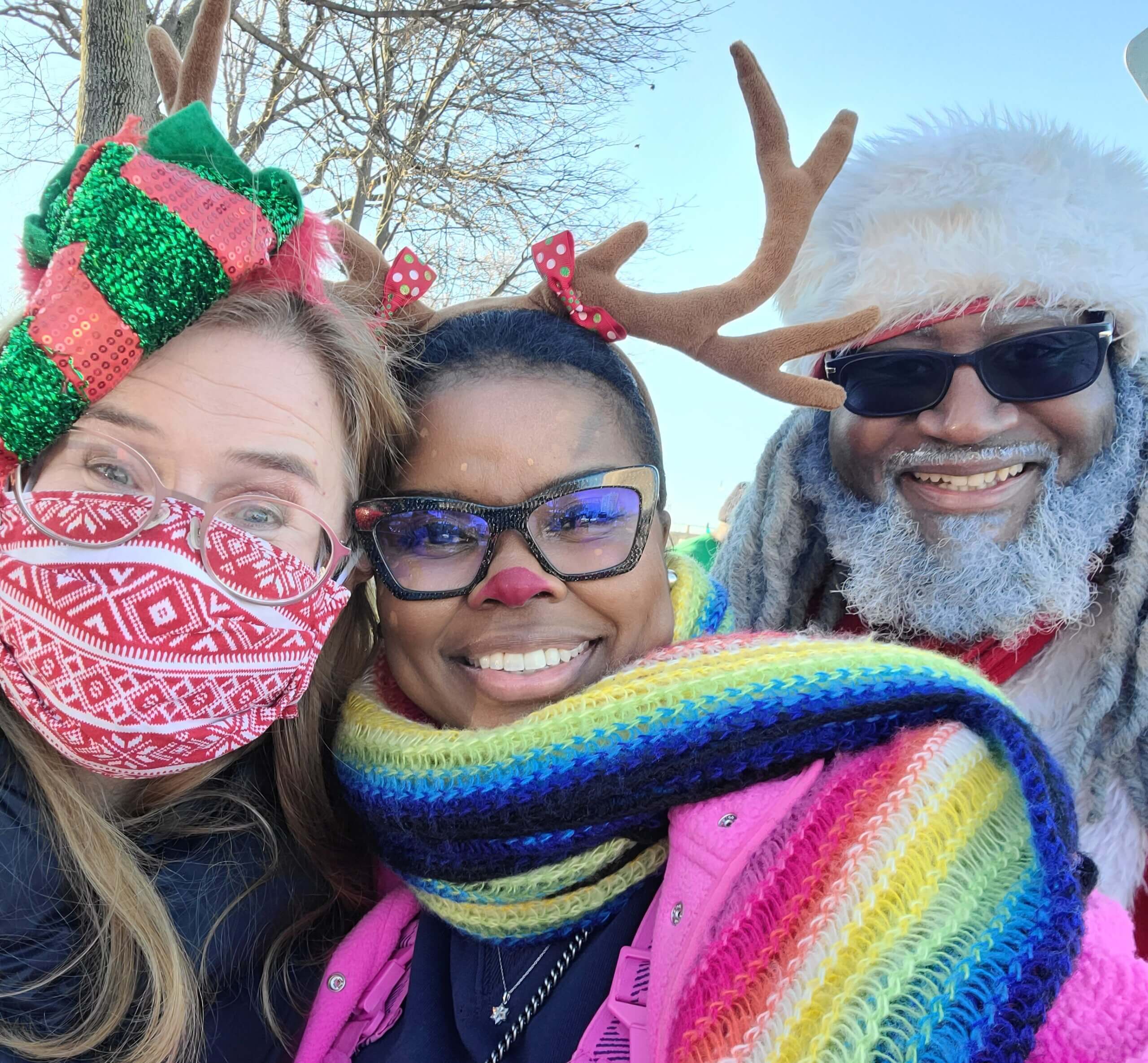 Christmas Day used to be predictably low-key for Tamar Manasseh, who grew up Jewish on Chicago's South Side. As she put it, she "used to watch old movies, day drink and eat Italian food. Chinese ain't my thing."
Then in 2016, she found herself with leftover gifts from an annual holiday party she spearheads as the founder of the anti-violence group Mothers Against Senseless Killings.

And a new tradition was born.
On Christmas morning, Manasseh and dozens of volunteers — many who are Jews from Chicago's suburbs — fill their cars with children's toys. They then form a caravan that drives through the city's South and West sides to hand out toys out to children who might not otherwise receive gifts for the holiday. They also distribute them to parents and other relatives who may not be able to afford gifts for their young family members.
"We do this in some of the poorest neighborhoods, outside of dollar stores, grocery stores, in housing projects, and on corners where people congregate," Manasseh said. "It's so beautiful how many Jews — over 100 — come out from all over Chicagoland to do a mitzvah. They bring their children and it's inspiring to see kids giving gifts to others."
The caravan has grown from a handful of cars to 60 last year. Manasseh rides in the lead, playing Motown Christmas hits from a speaker affixed to the back of her truck. With her is Chicago's official Black Santa, Dreezy Claus. Like the jingle of an ice cream truck, the spectacle attracts children and their families for a flurry of gift-giving.
Donations come in many forms: from people buying items on MASK's Amazon Wishlist to others dropping them off at the nonprofit's headquarters and those who fill their cars themselves before heading out. Some caravan members bring their children and grandchildren along.
The spirit of generosity is contagious, Manasseh said. "During the route, so many people will ask how they can join, and say they want to help."
Manasseh, the first woman ordained to the rabbinate at Chicago's Beth Shalom B'nai Zaken Ethiopian Hebrew Congregation in July 2021, is intentional about inclusion in MASK's work. She says about 70% of the caravan participants are white Jewish suburban residents, many of whom work with MASK throughout the year.
One is Laura Frisch, who lives in suburban Morton Grove and attends Makom Solel Lakeside in Highland Park. Frisch has worked with Manasseh at MASK for years; passing out food, holding street corner Yom Kippur observances for people killed by gun violence, and teaching in MASK's summer academy.
"I had nothing to do on Christmas Day," Frisch recalled of first hearing about the leftover toy giveaway six years ago.
"Now I'll bring gifts from my friends who can't go," she said. "It feels good. I feel like it's all part of tikkun olam. It's all part of healing the world. When you see something that needs to be fixed or healed, you do it."
"Once upon a time, I was one of those kids who needed toys. For me to be able to be an adult that can give to a kid is an amazing feeling."
There are also Black caravan gift-givers — some Jewish like Manasseh — and some who are neither Black nor Jewish. That describes Jared Honn. A resident of a predominately white and more affluent neighborhood on the city's North Side, Honn has also been involved with MASK since its early days.
"When MASK started, Tamar welcomed everyone who wanted to participate, and we just stuck around to support in whatever ways we could," he said.
"This provides opportunities for folks to experience the South Side as a place that is full of beauty and character instead of how the media tends to frame it as this big scary place.
"It's another way of activating folks on the North Side to show solidarity with our neighbors on the South Side in a reparational and restorative manner," he continued. "It's all about community building—when you're participating together you can get a lot more done."
The largely Black West Side is also included. This year, the caravan will add a stop at a West Side corner where 15 people were shot on Halloween.
"You want to go somewhere like that to show young people there that there is still love and goodness," Manasseh said. "Even if you haven't seen much of it, it's still here."
As Manasseh coordinates a growing number of gifts, volunteers and cars for the caravan, she considers the multi-generational aspects of the project. "Once upon a time, I was one of those kids who needed toys. For me to be able to be an adult that can give to a kid is an amazing feeling," she said.
"This is the definition of everybody looking out for and being there for each other, taking care of each other on that day. That's the most Jewish thing you can do."
The post 'It's all part of healing the world' appeared first on The Forward.