JERUSALEM (JTA) — Time stops on Shabbat in Jerusalem, for the living and the dead.
Up the stairs in an apartment on the main road in the Neve Yaakov neighborhood in the city's northeast, past hallway portraits of Sephardic rabbis, the Mizrahi family was not taking visitors on Saturday. "This is not the right time," a woman who opened the apartment door said.
A Palestinian gunman gunned down Eli and Natali Mizrahi on Friday night. Now the couple was in a morgue awaiting burial. There are no Jewish funerals on Shabbat. They would be buried after nightfall.
The gunman killed seven people Friday night, in the worst terrorist attack in Jerusalem in over a decade.
A day earlier, Israeli troops killed nine people, including two civilians, in a raid in the northern West Bank city of Jenin that Israeli officials said was aimed at preempting a major terrorist attack; a 10th died later. A day later, a 13-year-old Palestinian shot and wounded an Israeli father and son outside Jerusalem's Old City walls amid a scattering of further incidents.
Jerusalem, the country, the region are on edge. Prime Minister Benjamin Netanyahu announced new measures aimed at curbing the violence, targeting families of terrorists. Police arrested 42 people in connection with the Neve Yaakov attack. Bill Burns, the CIA boss, is on his way to Israel to consult with Netanyahu about how to keep the region from blowing up.
On Friday night, around 8 p.m., in the middle of the Sabbath evening meal, Eli Mizrahi, 48, ran downstairs as soon as he heard the gunfire. His father, Shimon, asked him not to go, the Times of Israel reported. Eli's wife of two years, Natali, 45, followed her husband.
Eli Mizrahi spoke to the gunman, who shot him and Natali dead.
On Saturday, Neve Yaakov residents stood in groups on the street in the long shadows cast by the winter sun, gossiping, trying to piece together details from second hand reports; Shabbat forbade them from turning on the radio or TV or checking their phones.
"We sat here in the living room and suddenly I heard shooting," said Sara Gablayev, 76, who lives on the ground floor, below the Mizrahis. "I ran to the window and saw two people falling. Then I saw some running and I shouted, 'What happened?' He said two more people were killed down the street."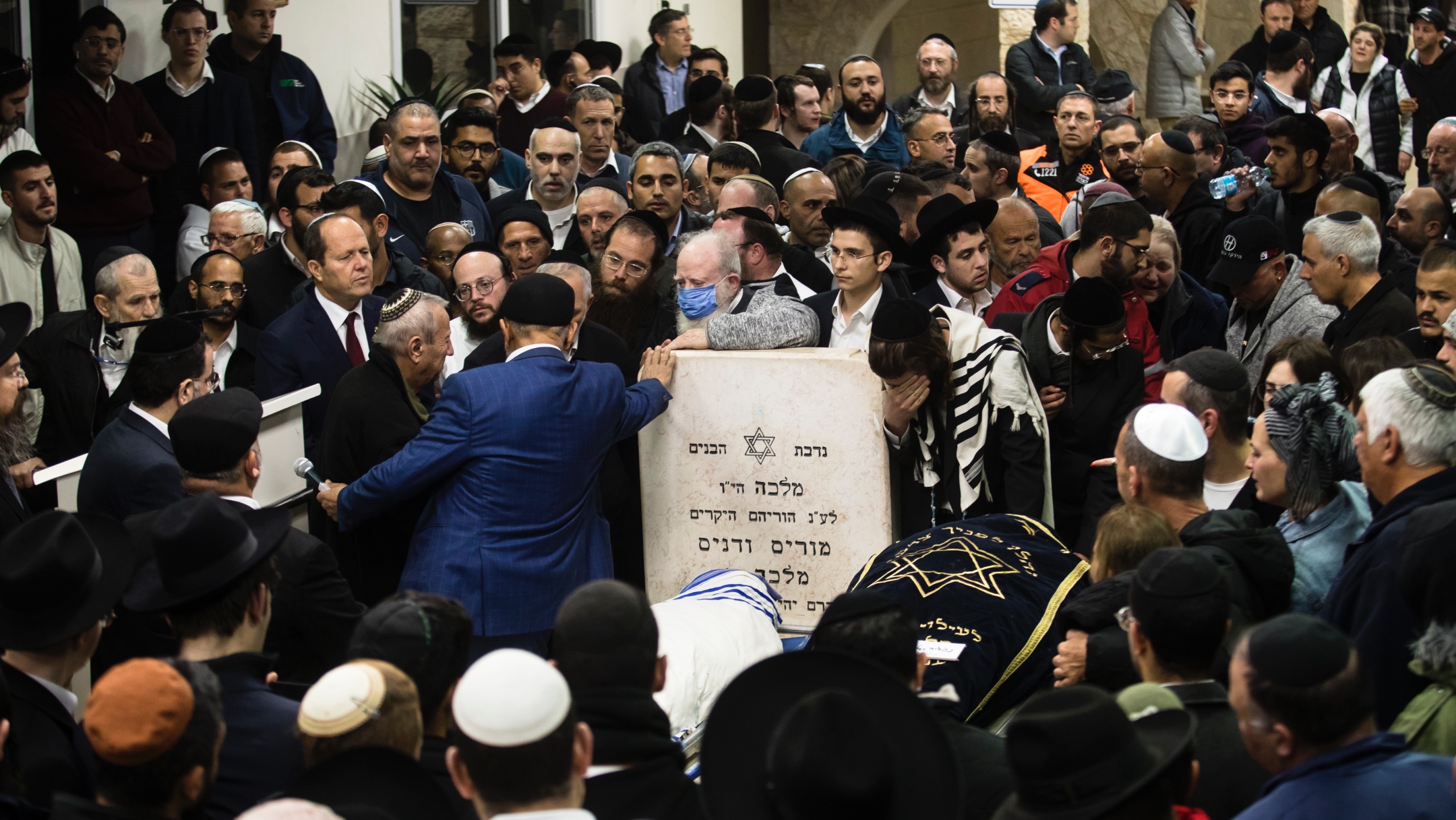 Family and friends of Eli and Natali Mizrahi, who were killed in a shooting attack in Jerusalem, mourn during their funeral in Bet Shemesh, jan. 28, 2023. (Amir Levy/Getty Images)
Image by
It was Friday evening, as Shabbat services were ending. Kheiri Al-Qam, 21, drove his car down Neve Yaakov Boulevard, shooting civilians, seemingly aiming at whomever he could reach.
He murdered the Mizrahis. He murdered Rafael Ben Eliahu, 56, who worked for the post office, and who left a widow and three children. He murdered Asher Natan, who was 14. He murdered Shaul Hai, 68, a sexton at one synagogue who was entering another to attend a Torah lesson. He murdered Irina Korlova, a Ukrainian caregiving worker. He murdered Ilya Sosansky, 26.
"The terrorist killed three people at the entrance to the synagogue and left three others with various injuries," said Chanoch Reem, a volunteer first responder with United Hatzalah who lives next to the synagogue Hai was entering and who rushed to the scene when he heard the commotion. "He then drove away while continuing to shoot passersby."
In a release, United Hatzalah quoted another of its first responders, Yosef Deshet, who was in the synagogue when Al-Qam opened fire. "When I heard the gunshots begin I took cover on the floor under a table with my son," he said. "Immediately after the shooting ended, I ran to my house nearby to bring my son back to safety and to grab my medical trauma kit and bulletproof vest."
Al-Qam drove his car to a junction that connects roads to Neve Yaakov and Bet Hanina, a Palestinian neighborhood. There, he exchanged fire with Israeli troops, and was killed.
On Saturday, in Ras al-Amud, an eastern Jerusalem neighborhood seven miles south of Neve Yaakov, Israeli troops surrounded the six-story building where Al-Qam lived with his extended family. Before dawn, troops bound men and boys to one another by the wrists and led them out. Neighborhood Palestinian youths grouped together on a nearby stairway watched the soldiers.
One of the young Palestinian men watching the troops said they were in wait-and-see mode.
"Maybe they'll demolish the house. Maybe it will be a surprise," he said. "It's a crazy government now. Any decision is possible."
Netanyahu's government, just weeks old, is the most right-wing in Israel's history. His public security minister, Itamar Ben-Gvir, was weaned on the teachings of Meir Kahane, the racist rabbi assassinated in 1990, and has called for loosening rules of engagement with the Palestinians.
Ben-Gvir the lawyer represented Jewish Israelis who were accused of violence against Palestinians. In a detail that underscored the entwined fates of the two neighborhoods, one of those whose innocence he helped obtain was Haim Perlman, arrested in 2010 on suspicion of having murdered another Kheiri Al-Qam — the Neve Yaakov attacker's grandfather. Perlman was never charged.
Ben-Gvir the provocateur with a criminal record made his name acts aimed at forcing the government rightward, accusing it of weakness. On Friday night Ben-Gvir the government minister traveled to Neve Yaakov, and now the anger, the pushback, the pleas to do something, anything were aimed at him.
"It's on your watch!" said one man, caught on video shouting at Ben-Gvir. "Let's see what you do now!"
The next day, Saturday, the residents chattered with one another on Neve Yaakov Boulevard trying to make sense of the night before. Neve Yaakov, a neighborhood built after Israel captured eastern Jerusalem in the 1967 Six-Day War, is surrounded by Palestinian neighborhoods and the separation wall between Jerusalem looms near.
"We live down the street so we don't know what happened," said Miriam Reuven, who was standing on a traffic island with her three granddaughters. "We came to get more information. I don't feel safe here anymore."
Some residents shooed away reporters: It was Shabbat, after all. Shimon Yisrael sought them out. He was showing a French camera crew the bullet in his ground-floor window.
"He came with a pistol to my face," he said of Al-Qam. "I was outside, he wanted to shoot me and I went into the house and he shot at the window. He wanted to kill me."
He knows what to do with Al-Qam's family, which is likely to receive benefits that the Palestinian Authority gives to the families of Palestinians killed or imprisoned over their role in attacking Israelis. "Destroy their house," Yisrael said. "Deport the whole family to Syria, to ISIS, they'll slaughter them over there."
In Ras Al Amud, the youths outside Al-Qam's building said his father, Musa, is at prayers at a mosque a few doors down.
At the mosque, men were gathered in a courtyard, drinking the bitter coffee typically served at funerals. Except there is no funeral. Israeli authorities are holding Khairi Al-Qam's body.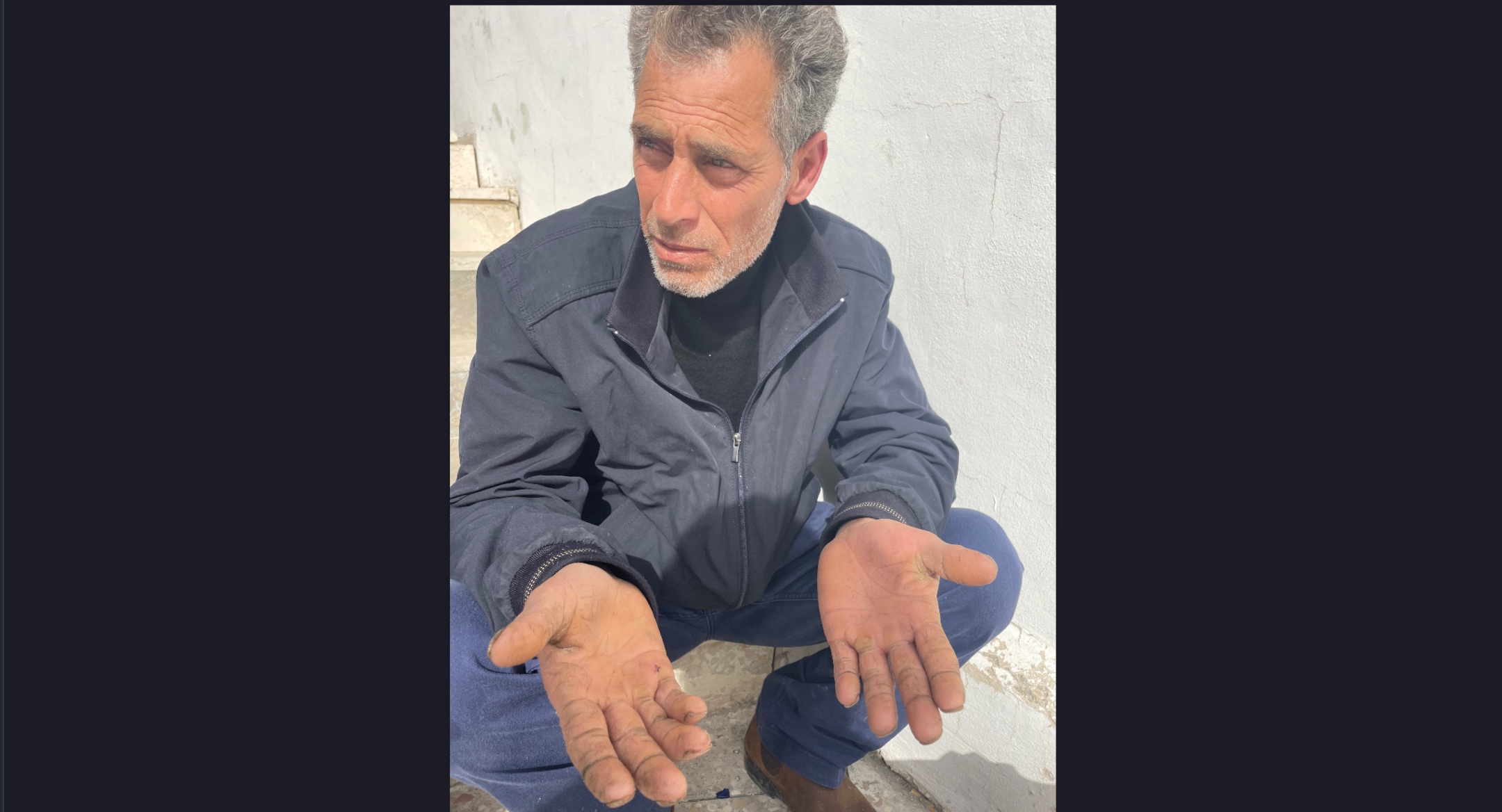 Musa Al-Qam whose son, Khairi, murdered seven Israelis and was killed, mourns in a mosque in Jerusalem, Jan. 28, 2023. (Orly Halpern)
Image by
Musa Al-Qam came out of the mosque to meet a reporter in the courtyard. His voice was toneless.
"Today is a wedding. It's a celebration," he said of his son's death. "We don't need to cry. Everything that happens is from God."
Men hugged him. He stiffened.
His hands are calloused. He explained that he has worked for years in construction. He has eight children, four boys and four girls. The youngest are twins, he said, and for the first time, he smiled.
"The soldiers told me my son is a fighter," he said. "My son is not from any movement. I don't know what happened to his mind. The occupation kills boys before they are men."
A few hours later, Netanyahu's office issued a release: The security cabinet had ordered his apartment building sealed ahead of its destruction.
This article originally appeared on JTA.org.
The post In Jerusalem neighborhoods bound together by terror, anger and trepidation about what comes next appeared first on The Forward.