The Florida Highway Patrol says one woman has been arrested in connection to a road rage incident where the suspect allegedly climbed on top of a car after a minor crash while she was with another man.
Two people in Brandon, Florida, got into a minor car crash with a 31-year-old inside a 2019 Chevy Sedan on April 11, the FHP said.
In video posted to social media by the FHP, the man involved in the incident can be heard yelling "get out of the car!" while the woman can be seen punching the car's window.
According to FOX 13, the woman allegedly involved in the incident, Shaniah Faith Cofield, was arrested. The man troopers accuse of being involved in the incident, Peter Allen McClarin, is not yet in custody.
FLORIDA ROAD RAGE SUSPECTS CLIMB ON TOP OF VEHICLE AFTER MINOR CRASH: 'GET OUT OF THE CAR!'
Officials said the man used a firearm in one attempt to break the car's window. 
The woman was seen at one point jumping on the front hood of the car while it was in stopped in traffic at a light.
FLORIDA TEACHER ID'D AFTER BODY FOUND IN SUBMERGED CAR NEARLY 3 YEARS AFTER HE DISAPPEARED
Prior to the witness recording the incident from inside her car, troopers said that at least one gunshot was fired at the Chevy.
The witness told another bystander that the Chevy's driver hit the couple's car and attempted to drive away. 
In the video, the witness inside the car urged the pair to call the police instead of trying to break into the car.
"Hey, call the cops!" the witness said. "You're gonna go to jail. Don't go to jail!"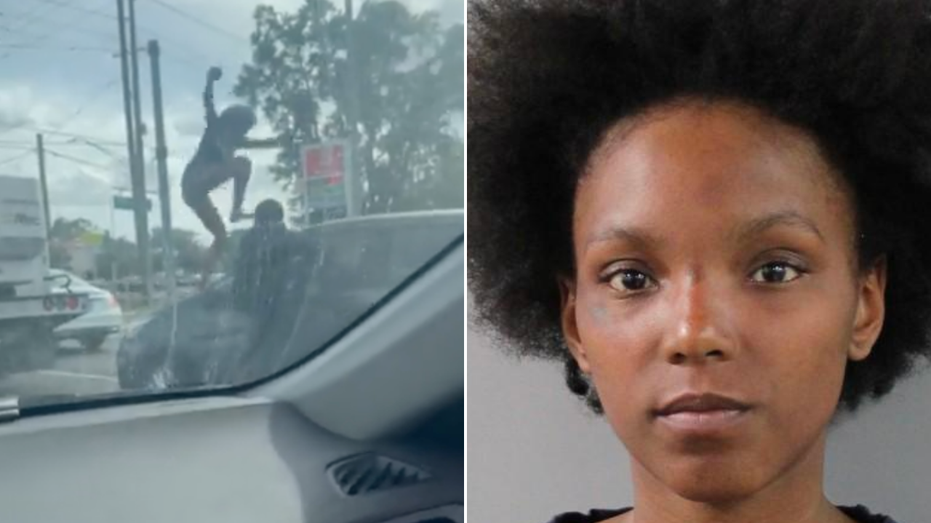 Latest & Breaking News on Fox News
1. World from Michael_Novakhov (27 sites)
Global Security News from Michael_Novakhov (30 sites)