The Diary of Anne Frank's premiere at the Cort Theatre in autumn of 1955 was a typical Broadway opening. Until it wasn't.
The play had just completed an out-of-town tryout at the Walnut Street Theatre in Philadelphia, and the reviews had been good.
"It was a big deal; it went very well," Eva Rubinstein, who played the role of Margot Frank, told me of the Philadelphia run. "They made some minor changes, but not a lot, and the same cast came to New York."
Even so, the cast was nervous.
The Cort Theatre had been dark for four months, after the closing of Once Upon a Tailor, an old-world Jewish folktale by Yiddish theater veteran Baruch Lumet, father of Sidney Lumet, who at the time was just getting his start as a TV director. Tailor had been deemed "laboriously quaint" by the New York Daily News and lasted less than a week.
Walter Kerr, critic for the Herald Tribune, would be in the opening-night audience for The Diary of Anne Frank. Brooks Atkinson would be reviewing for The New York Times. Susan Strasberg would be making her Broadway debut in the title role, and one of her best friends, Marilyn Monroe, would be watching.
In her memoir, Bittersweet, Strasberg wrote that her "stomach was playing strange tricks" that night. When I interviewed Rubinstein last fall, she told me: "It was very, very emotional because everybody got extremely involved in the actual facts of the thing."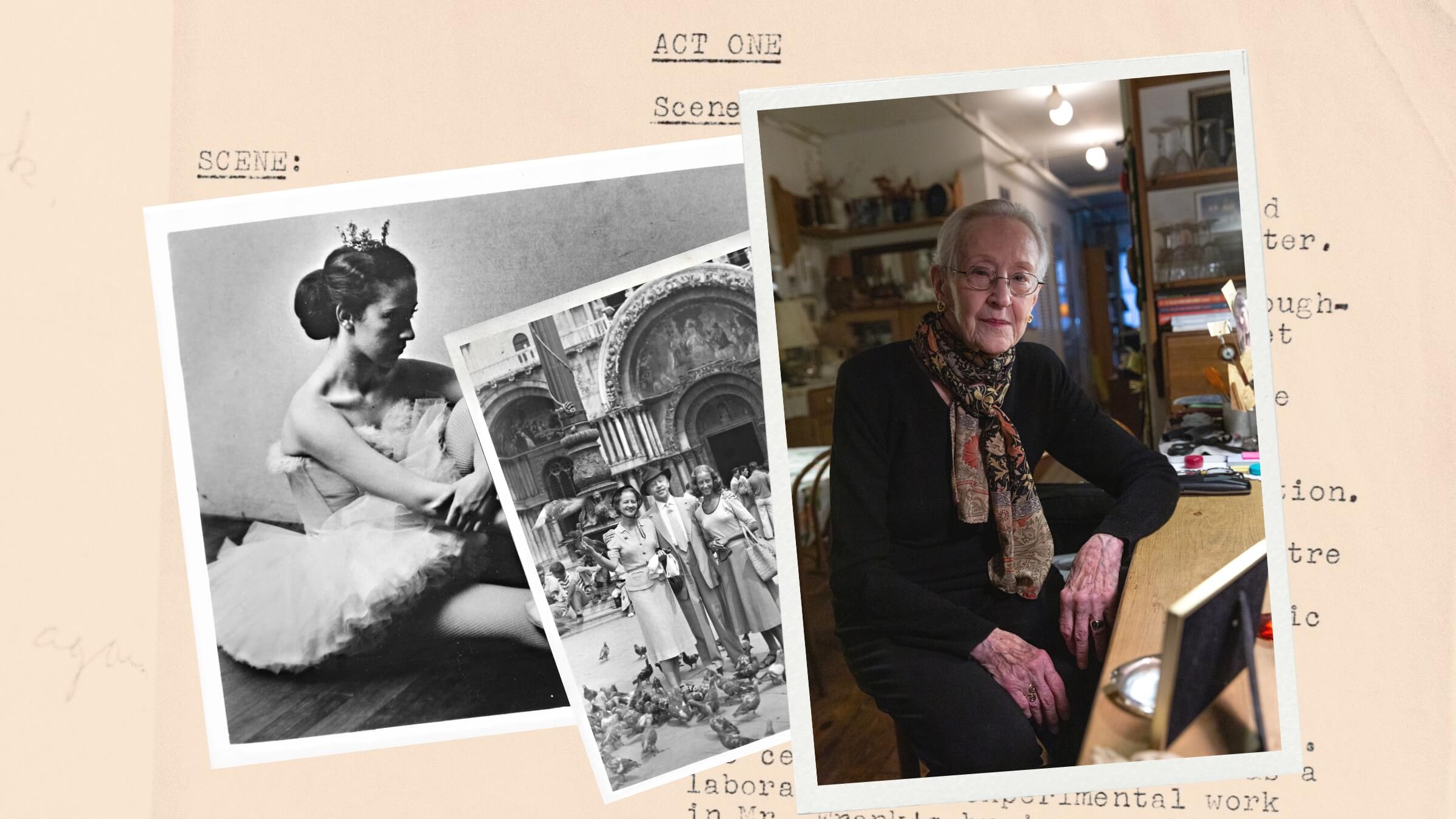 From left to right: Rubinstein as a ballerina, with her parents in Venice in 1955, and at her home in Manhattan in 2022. Graphic by Matthew Litman. Photos by Matthew Litman and courtesy of Eva Rubinstein
Rubinstein, the internationally renowned photographer, who started out as an actress and ballet dancer, was one of the dozens of people I spoke to for Playing Anne Frank, a podcast series about how The Diary of Anne Frank became a Pulitzer Prize-winning play and an Oscar-winning movie. When I started work on the podcast, I'd recently finished the final edits of Cyclorama, a novel about how a high school production of Anne Frank changed the lives of its young actors, and I wanted to learn how the original show had impacted its cast and crew.
"It never felt like just  a plain old play," Rubinstein told me. "It really felt like a responsibility."
In The Real Nick and Nora, a biography of the show's writers, Frances Goodrich and Albert Hackett, their nephew David L. Goodrich wrote that Anne's father, Otto Frank, sent a note expressing regrets for not feeling up to attending the opening.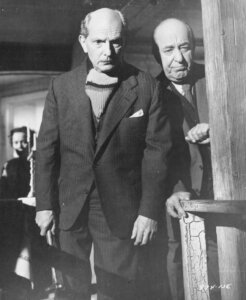 Joseph Schildkraut, who played Otto Frank on Broadway and in the Hollywood film, with Ed Wynn, who played Mr. Dussel in the movie, 1959. Photo by Getty Images
"You will all realize that for me this play is a part of my life, and the idea that my wife and children as well as I will be presented on the stage is painful," read the note, which was  posted on a bulletin board backstage. "I hope most ardently that the play will, through you, reach as many people and awaken in them a sense of responsibility to humanity."
 When the curtain came up on the Frank family's secret annex on Oct. 5, 1955, it represented the culmination of a three-year process to bring Anne Frank's story to the stage. 
There had been a contentious artistic and legal battle between the show's producer, Kermit Bloomgarden, and the writer Meyer Levin, who was replaced by Goodrich and Hackett. Plus innumerable back-and-forths between the writers, producers, director and Otto Frank, who was a thoughtful and kind but pretty demanding literary critic. 
"I am feeling very desolate to have to tell you that I have a lot to object," Frank wrote of one of Goodrich and Hackett's drafts. I found Frank's very detailed responses to the evolving script in Kermit Bloomgarden's papers, which are housed at the Wisconsin Historical Society. 
There was also a long search for the right director. At one point, Bloomgarden was considering Fred Zinnemann, who had never directed a Broadway play but was beloved in Hollywood for High Noon and From Here to Eternity. The producer selected Garson Kanin, the veteran film and theater writer and director, who'd collaborated with his wife, Ruth Gordon, on numerous screenplays including Adam's Rib and Pat and Mike. 
Kanin turned out to be a shrewd choice. He was "tireless," Frances Goodrich wrote in her diary, which I also found in Kermit Bloomgarden's archives, and had a "meticulous attention to detail." When the creative team visited Anne Frank's room in the secret annex, Kanin noticed that, on Anne's wall, she had pasted a picture of Ginger Rogers from Tom, Dick and Harry, a film he had directed.
And, of course, hundreds of telegrams and letters had been exchanged on the question of casting. Among those under consideration to play Anne Frank and Peter Van Daan were Natalie Wood and Dennis Hopper. "We think this boy is a great find, an ace in the hole," Frances Goodrich wrote of Hopper in a letter to Bloomgarden. Ultimately, the roles went to Susan Strasberg and Dan Levin.
But now it was opening night. Over the course of about two hours, the cast of 10 people and one cat (Mouschi) performed the story of how the Frank and Van Daan families managed to survive more than two years of hiding with the help of heroic friends and neighbors. And how, inevitably, the Nazis discovered their hiding place. 
"That last scene when you hear them coming up the stairs, it was awful," Rubinstein told me. "Your heart was pounding so that it was hard to pretend it wasn't real." 
The curtain came down, then back up. And so did the lights. The cast faced the audience, and then something happened that was unlike the end of any other Broadway opening: Nothing.
There was no applause, no shouts of "Bravo." Just silence.
"It was so profound — the sound — that the actors were nervous, you know, they were thinking 'what's wrong?'" recalled Hale Lamont-Havers, who played Miep Gies, who helped hide the Franks, in the original Broadway cast. "And it was just the audience was so stricken by what they had seen and what they had lost — the loss of the child and her family."
Arnold Margolin, the show's assistant stage manager — who later took over the role of Peter Van Daan — shared a similar memory when we spoke.
"You know, the whole issue of the Holocaust, that was very fresh, and of course the birth of Israel was also very fresh, and so it felt very immediate," he told me. "It was a rare night when the curtain came down that there wasn't just silence."
Eva Rubinstein said: "They weren't even sure they wanted to applaud you." 
After a few stunned, quiet moments, the applause did come. Not just from the audience, but from critics. The show would go on to win the Pulitzer Prize and the Tony Award for best play.
"A radiant play — as bright and shining as a banner," Kerr wrote in the Herald Tribune.
"A lovely, tender drama," Atkinson said in The Times. "Out of the truth of a human being has come a delicate, rueful, moving drama." 
(Somewhat oddly, Mark Barron of The Associated Press described Susan Strasberg as "the sexiest actress of this season.")
The next day, Oct. 6, Frances Goodrich wrote about opening night in her own diary. 
"It was worth the tears, the months we worked, the miles we traveled," she said. "We only wish that Anne could have known."
Hear more about how the original Broadway production of The Diary of Anne Frank, and the Oscar-winning film version, shaped the lives of those who made it on our podcast, Playing Anne Frank.
The post How the premiere of 'The Diary of Anne Frank' was different from any other Broadway opening appeared first on The Forward.