Happy Hanukkah! Welcome to the California Briefing, the weekly dispatch of California Jewish news from the Forward's Louis Keene. To get this in your inbox every Thursday, subscribe here: forward.com/california.
In praise of "non-kosher" menorahs
There's been some debate online recently about the proper shape of a menorah: Should the branches be round or straight?
Actually, the debate isn't recent at all — it dates back centuries. And some wise person always chimes in to say that, well, who cares? After all, either version would be kosher. (Not to eat, but to fulfill the rabbinic mitzvah of lighting it.)
That got me thinking though (and eventually tweeting) about the idea of the non-kosher menorah. The rules governing menorahs are simple — the eight candles have to be in a straight line and level, and the shamash (used to light them) has to be offset. The use of nonconforming menorahs used to bother me. It doesn't anymore.
In fact, I've come to see them as an expression of non-Orthodox Jewish religious identity that should be celebrated — prized, even. Those expressions are important, just like (and because) non-Orthodox Judaism is important. Non-kosher menorahs may not fulfill my religious obligation, but they belong all the same under our grand Jewish tent (which I assume has a seriously large windowsill).
You know where I'm going with this: Send me pictures of your menorah(s)! We'll include a few in next week's newsletter.
What we're watching
  Hanukkah on Rye, Hallmark's Christmas movie for the Jews starring Yael Grobglas (of Jane the Virgin), is streaming on Peacock. Reviewing it for the Forward, Irene Katz Connelly called the movie "weirdly good," qualifying that it is a total ripoff of Nora Ephron's You've Got Mail.
  The trailer dropped this week for Christopher Nolan's newest epic Oppenheimer, about the development of the atom bomb. Benny Safdie (director of Uncut Gems) is slated to play Edward Teller, and wouldn't you know — Josh Peck, former Nickelodeon child star of Drake & Josh, will play the goyish Kenneth Bainbridge. (Oppenheimer himself will be played by Nolan favorite Cillian Murphy.)
 Jack Black sings the Hanukkah blessing.
  Skyler Gisondo made a movie website's list of actors who could play Clark Kent in James Gunn's upcoming Superman reboot. But the Righteous Gemstones actor noticed the article was full of backhanded compliments for him, e.g., "Skyler would deliver a more comical, less confident Superman." His reaction, which I recorded from his Instagram Stories, was downright heroic.
What we're reading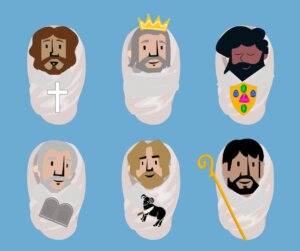 Six of our best biblical Nepo Babies. Graphic by Mira Fox
  New York Magazine published a spicy feature this week on "nepo babies" — short for nepotism — and some of this newsletter's recurring guests (Ben Platt, Zoë Kravitz and Rashida Jones to name three) are implicated. The Forward's PJ Grisar ranked the Bible's top nepo babies, with fellow culture writer Mira Fox contributing a top-shelf illustration.
  "Hanukkah doesn't need a hip rebrand." On Manischewitz's "crypto gelt."
  Tough week for Drake, who bet a million dollars on Argentina winning the World Cup final and still lost, then had his "how about you come to my office?" shtick rejected by celebrity interviewer Amelia Dimoldenberg (who graced the cover of this week's British GQ).

  An Orthodox Jewish basketball writer for Fox Sports (not me) profiled aspiring Detroit Piston Ryan Turell.
  In a first for the city of San Mateo, its new mayor, Amourence Lee, is a Jew of color. Lee's father is of Chinese-Hawaiian heritage and whose mother is an Ashkenazi Jew, was appointed to the role Dec. 12 by city council. J. Weekly has the scoop on the early resistance to her promotion.
Your humble correspondents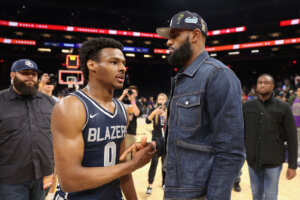 Sierra Canyon's Bronny James is greeted by his father, LeBron James, after a win earlier this month. Sierra Canyon will face Valley Torah tonight. Photo by Christian Petersen/Getty Images
A trio of California stories from yours truly this week —
Not to be outdone, Rob Eshman brought three of his own: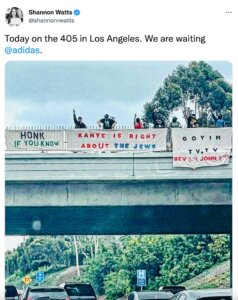 Pictures of the Goyim Defense League banners supporting Kanye West's comments about Jews went viral after they were captured in Los Angeles, Oct. 22, 2022. Photo by screenshot from Twitter
Finally, in the we-are-so-lucky-to-live-in-California department…
California was inhospitable enough to the dirtbag antisemite who hung the "Kanye is right about the Jews" sign from the 405 freeway that he left the state. He's Florida's problem now, per J Weekly. Good riddance!
The California Briefing goes out to subscribers every Thursday at 4 p.m. To subscribe, go to forward.com/california.
The post California Briefing: In praise of non-kosher menorahs, and a Jewish child star lands an explosive role appeared first on The Forward.