В Ереване с утра 2 мая проходят акции неповиновения, митингующие перекрыли десятки улиц в столице. Полиция пытается разблокировать дороги, по данным ТАСС, силовики задержали уже более 125 человек. 
Как передает армянская служба Радио Свобода, заблокированы проспект Маштоца и его пересечение с улицей Пушкина, демонстранты устанавливают мусорные баки и скамейки на перекрестке Маштоц-Амирян. Площадь Франции закрыта со всех четырех сторон.
Оппозиционный вице-спикер парламента, член фракции "Айастан" Ишхан Сагателян сообщил Радио Азатутюн, что ночь в Ереване прошла мирно, столкновений не было, погодные условия были неблагоприятными, поскольку шел дождь, но митингующие ночевали на площади Франции.
Уличные протесты оппозиции начались две недели назад после заявлений премьер-министра Армении Никола Пашиняна, что международное сообщество ожидает от армянской стороны снижения планки требований по статусу Нагорного Карабаха.
По мнению оппозиции, армянское правительство намерено пойти на уступки Азербайджану в вопросе Нагорного Карабаха.
Территориальный спор между Арменией и Азербайджаном по поводу Нагорного Карабаха длится с конца 1980-х годов. Населенная в основном этническими армянами Нагорно-Карабахская автономная область при поддержке Армении заявила о выходе из Азербайджанской ССР, а в сентябре 1991 года объявила о создании "Нагорно-Карабахской республики".
За период вооруженного конфликта 1988-1994 годов в сепаратистском регионе погибли 30 тысяч человек. Нагорный Карабах и несколько прилегающих к нему районов Азербайджана перешли под фактический контроль вооруженных сил Армении. В результате сотни тысяч человек, в основном этнические азербайджанцы, стали беженцами и вынужденными переселенцами.
"Нагорно-Карабахская республика" официально не признана ни одной из стран ООН, в том числе Арменией. В 1993 году ООН приняла четыре резолюции с требованиями вывода армянских войск из региона Карабаха и признанием территории частью Азербайджана.
После очередного обострения ситуации в конце сентября 2020 года Азербайджан вернул под свой контроль районы вокруг Нагорного Карабаха и взял древний и символически значимый город Шуша (на армянском Шуши). На следующий день после взятия Шуши премьер-министр Армении Никол Пашинян, президент Азербайджана Ильхам Алиев и президент России Владимир Путин подписали заявление о прекращении огня в Нагорном Карабахе.
По условиям договора, за Арменией и Азербайджаном закреплены территории, на которых находились войска на момент подписания документа. Вдоль линии соприкосновения размещена миротворческая миссия России.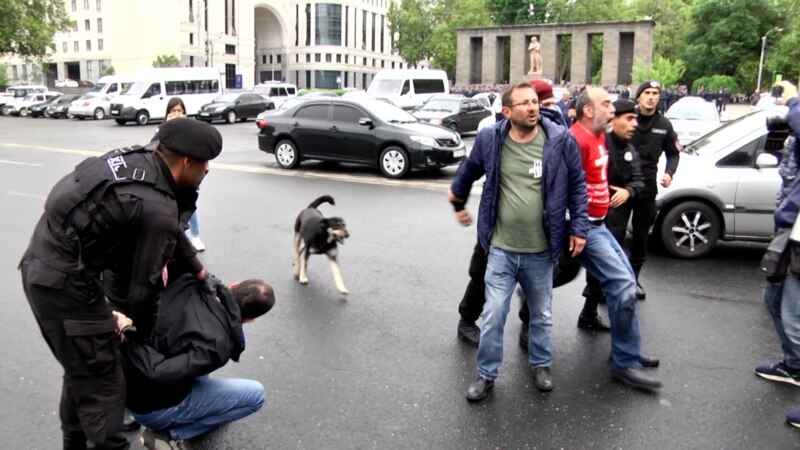 Новости – Настоящее Время
The post Новости – Настоящее Время: В Ереване митингующие перекрыли более десяти улиц, есть задержанные first appeared on The Brooklyn Guide.